Throughout the Pacific Northwest, thousands of people enjoy exploring the vast wilderness, immersing themselves in nature by lacing up their hiking shoes and heading out on a nearby trail. When it comes to hiking in Oregon, Washington and Idaho, you don't have to look far to find a trail that leads through beautiful, diverse landscapes, often with breathtaking views along the way to destinations including stunning waterfalls and pristine lakes.
Hiking can sound intimidating if you're a beginner, but with just a little preparation, nearly anyone can get out for a safe, fun excursion to take in the natural beauty the area is known for. Whether your wandering takes you along rivers, beneath snow-capped mountains, through rainforests or across deserts, hiking the region's various terrain is an ideal way to get a good workout in while spending time unplugged and unwinding outdoors, all excellent for your overall well-being.
Though it's nearly impossible to narrow down our hiking bucket list, this collection includes some of our favorite destinations around the PNW. Wherever you go on your next hike, whether it's your first or your 100th, take time to prepare, and be a champion of the outdoors and a steward of nature while you're out there. Recreate responsibly. Learn and follow the 7 principles of Leave No Trace. And have fun.
Tin Cup Hiker, Alice Lake
(Sawtooth National Recreation Area) – Idaho
The Tin Cup Hiker Trailhead is the start of a long loop that many opt to turn into an overnight backpacking trip in which you experience not just the picture-perfect Alice Lake, but Toxaway Lake, Twin Lakes and Farley Lake as well. The Alice Lake portion of the hike can be done in a day if you start early and give yourself the better part of the day, especially if you like to meander and take in the world around you as you go, not to mention stopping for photo ops! Along the way, you'll climb through the dense forest to elevations boasting breathtaking views of craggy peaks, encounter multiple creek crossings, and be rewarded for your efforts when you reach the pristine, gem-colored Alice Lake.  
Misery Ridge & River Trail
(Smith Rock State Park) – Oregon
Options abound for those venturing out to Smith Rock State Park to hike. The park encompasses more than 650 acres and includes a range of hiking trails from easy to extreme. While many come out to simply hike up and back down Misery Ridge, adding the River Trail loop to the outing adds to the experience. The approximately 3.5-mile adventure takes about two hours and is very popular – for good reason! The panoramic views from the top are unbeatable – you can take in the Cascade Range in the distance and the narrow, winding Crooked River below. The scenery along the River Trail portion of the hike is equally as breathtaking. Don't forget water, a snack, sunblock and trekking poles – as the name implies, this is no easy wander!
(Hoh Rainforest) – Washington
What this trail lacks in length it makes up for in beauty! A great option for families with little ones, at around one mile on flat ground, the Hall of Mosses trail lives up to its name. Situated in the Hoh Rainforest on the west side of Olympic National Park, this hike is truly an iconic loop through a lush canopy of trees amid blankets of various mosses and decorated with a range of happy ferns. Keep your eyes open as hikers often see deer, elk and plenty of slugs during their adventures here. For those who want to explore the area, it's easy to add on the Spruce Nature Trail, another short, flat and beautiful option accessible from the same parking area.
The Dunes 6 Mile Hiking Trail
(Bruneau Dunes State Park) – Idaho
A unique sand dune adventure, this hike offers a fun, yet challenging loop through the desert terrain with lakes and marshland nearby. Even though it may seem like the elevation gain is minimal on this hike, walking up a dune is much more difficult than on a packed dirt or rock trail up a mountainside. Don't underestimate it and be sure you bring plenty of water and wear a hat to protect you from the sun, which of course is unobstructed out here! Take in the expansive views while you traverse across the ridgeline – you'll be able to see for hundreds of miles.
Neahkahnie Mountain Loop Hike
(Oswald West State Park) – Oregon
There is nothing quite like exploring the Oregon Coast Trail and Neahkahnie Mountain in Oswald West State Park never disappoints. It's a strenuous climb to the top, the peak jutting 1,600 feet above the beach, but the views from the top are so dramatic it's well worth the effort. The quaint beach town of Manzanita hugs the crescent beach along the shoreline below. This hike to the mountaintop is best begun at the southern trailhead, which has the option to be done as a 2.5-mile loop or an out-and-back adventure. There's an alternative route that begins at the northern trailhead – a 4-mile out-and-back adventure – but hikers often report that this route is not well maintained.
(Mount Rainier National Park) – Washington
When a hiking trail offers picture-perfect views of craggy mountains, a cascading waterfall and fields of colorful wildflowers, it quickly becomes one many adventure seekers keep at the top of their list. Mount Rainier National Park has an abundance of amazing hikes, but many consider the Skyline Loop Trail to be the pinnacle (which is why you can expect heavy traffic and challenging parking). The 5.5-mile loop includes quite a lot of uphill with an elevation gain of 1,700 feet, but the views offer a great excuse to stop and rest as often as you'd like. It's worth noting that while the trail is exposed and can be hot and unforgiving in the summer, there are large sections that remain snow-covered even in the hottest part of the year. 
(Craters of the Moon National Monument) – Idaho
For a unique outing, consider a hike along the 3.5-mile North Crater out-and-back trail where you'll be able to see the effects of volcanic activity. Though not a difficult trek, the route has a lot of up-and-down features, so plan for some physical exertion and opt to carry poles or a walking stick to help with balance on some of the rocky sections. This is one of very few maintained trails in Craters of the Moon National Monument, and wanders across a chain of volcanic craters, past lava flows and a lava cave and ends near the Spatter Cones – a collection of volcanic vents.
(Rattlesnake Mountain) – Washington
Like many hiking trails that lead to sweeping views, this is a popular place, so be prepared for crowds – especially on summer weekends. The adventure begins at Rattlesnake Lake, with the massive rock face and Rattlesnake Ledge looming what seems like an impossible height and distance away. Thanks to the dedication of many Washington Trail Association work parties, the trail utilizes switchbacks to decrease the effort needed to reach the top, 1,500 feet higher and 2 miles from the start. The dense forest of moss-covered trees at the start of the hike eventually gives way to the cliffs above, where the views are the reward and include Mount Si, Mount Washington, the Cedar River Watershed, Chester Morse Lake and of course, Rattlesnake Lake.
(Silver Falls State Park) – Oregon
No matter what draws you into the wide outdoors in the Pacific Northwest, this hike is not to be missed. Boasting up-close and personal views of 10 gorgeous waterfalls – including some you get to walk behind – this hiking loop in Silver Falls State Park wanders through towering hemlocks and Douglas firs amid craggy basalt cliffs that line the trail. A year-round destination – it's worth visiting in any (or every!) season, but during the autumn months, the forest's changing colors add an element of intrigue. Pack a lunch and plenty of water, estimates of the full adventure range from just over 7 miles to just under 9. A few tricks can make this a shorter outing, though doing so also skips some of the falls.
(Okanogan Wenatchee National Forest) – Washington
A challenging route on the edge of North Cascades National Park, this loop is just over 7 miles of an outdoor lover's paradise. Adventurers start out in a dense forest before emerging among subalpine lakes with endless views of looming Cascade peaks. A side trip to Lake Ann is well worth the extra trekking, but views of the shimmering lake from above certainly don't disappoint. Colorful wildflowers paint the landscape throughout summer, replaced with dramatic golds and reds in the fall. During huckleberry season, the fruit is plentiful. Snow can linger on this trail late into the summer, and it can also pile up in the fall on an early snow year, so check trail conditions before you go!
(Santiam State Forest) – Oregon
Considered by many to be Oregon's most unique waterfall, Abiqua Falls is hidden deep in the forest on private property which the owner has opened to the public. The hike takes you along Abiqua creek and the sound of the falls increases as you continue, sometimes scrambling over logs and moss-covered rocks and boulders. The falls in winter is particularly stunning and icicles form on the basalt cliffs where ferns cling and create a dramatic scene. This is a steep and often slippery hike, so kids and dogs won't enjoy it as much as the seasoned hiker. Download a map before you go, there's no cell service and little marking on the route.
(Columbia River Gorge National Scenic Area) – Oregon
An out-and-back trail means you can make your Oneonta Trail hike as long or short of an adventure as you wish! Popular for hikers and trail runners, the trail follows Oneonta Creek – at times from within the green creek basin and at times from the basalt cliffs above. Considered moderately difficult by most, you can expect some rocky terrain and elevation changes. One of the biggest draws of this hike is the stunning view of Triple Falls, where the creek tumbles in three separate rivulets more than 100 feet over the rock wall. 
Ready to head out for a hike? Check out these resources!
Choosing where to go, packing your gear, and slipping into your hiking shoes are the first steps to an enjoyable and successful hike. Careful consideration of food selections along with planning and preparation of what to bring with you will not only ensure that you will not go hungry or thirsty, but it will also provide your body with the necessary fuel to keep you moving up the trail.
Read More »
If the wilderness is calling you, remember it is important to adequately prepare for your adventures. From your fitness to your gear, learn what you can do to set yourself up for a fun, injury-free hiking season, including 9 exercises designed to lay a foundation for strengthening and balance.
Read More »
What are the most common hiking injuries? Whether you're an advanced adventurer or a weekend warrior just beginning to explore the nearby hiking trails, knowing what to watch for and what to do in the case of an injury can be the difference between a season cut short, and a season full of miles.
Read More »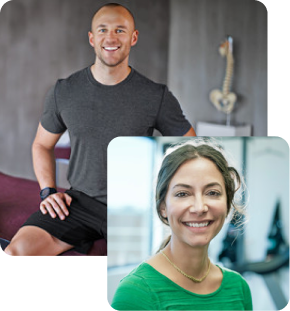 Start your physical therapy journey today.
As physical therapists, we know the importance of movement for overall health and well-being. From injury recovery to achieving optimal performance, our passion is to help every patient reach their goals and live an active, pain-free life. Get started with PT today!