While running when the temperature is warm and the sun rises early and sets late draws many of us out daily, during the winter when it's cold and the darkness lingers into the morning and settles early in the evening, even the most dedicated runners require a little extra encouragement.
But with the right gear, training and preparation, running in winter can be as rewarding as it is in the summer. Whether you're a trail runner or a road runner you can layer up and lace up no matter what season it is.
Is winter running good for you?
Winter running is a welcomed change from the stress of the heat during summer running, and many runners find that they are able to use this time to build upon their summer and fall seasons to increase their aerobic base. 
Additionally, allowing yourself an "off-season" between major training blocks can help to prevent injury and burn out, and allow for time to focus on building overall aerobic capacity.
Running also provides a mood boost and mental recharge during the darker winter months. Getting outside for a run is a great way to absorb much-needed vitamin D as well as logging physical activity, both of which can help to improve mood and have an influence on symptoms associated with depression. 
A broad collection of studies shows that across all ages, exercise consistently decreases overall tension levels, elevates and stabilizes mood, self-confidence, energy and memory, and improves sleep.
What to wear winter running - be visible
In most places, winter means shorter days, and running in low light or even darkness becomes the norm for many of us. It's critical to ensure you can be seen while running at night, to avoid the risk of being struck by a car.
When choosing winter workout clothes, light and bright are certainly better than dark and black options, but to be safe, you need to wear reflective clothing that bounces light back toward its source and in all directions. Ideally, choose items that have reflective sections on the body parts that move the most while running – ankles, knees, wrists and elbows.
In addition to busting out the reflective clothing, use a headlamp and blinking clip-on lights. Choose well-lit routes and be aware that others can't always see you. If you have the option, run with a buddy or a group to be more visible and safer.
While it's impossible to eliminate the risks of running in the dark, Trail Runner Magazine outlined six science-based tips on how to best be seen while running in the dark in The Science of Being Seen At Night.
Cold weather running gear – essentials for the elements
Proper gear can help to make winter running more enjoyable as you encounter temperatures and a mix of terrain. Here are a few winter gear considerations:
How cold is too cold to run outside?
Even with the proper gear, runners should avoid extreme cold to protect against injuries such as frostbite, hypothermia, or extra stress on their respiratory system. If the temperature drops into the single digits or the windchill is in the negatives, it's best to bring your workout inside.
Running safely in winter - avoid injury
Even if you have all the right running clothes and winter running gear, running in darkness puts you at greater risk of injury involving unseen obstacles. Landing wrong on a sidewalk crack or a road reflector can easily lead to a twisted ankle. Road surfaces are often slick due to weather or debris, which can lead to slips and falls.
If you're a trail runner, roots and rocks are easy to miss in low-light situations, often leading to ankle sprains and other injuries. Trail conditions can be muddy or even snow and ice covered, increasing the risk of slips and falls.
It's important to begin any workout or run with a dynamic warm-up no matter what time of year, but in the winter it's even more crucial. A dynamic warm-up increases your body temperature, gets your blood flowing and wakes your muscles up in preparation for the exercise ahead. Be mindful to avoid building a sweat that will chill you when you head out.
Adding balance and agility work to your training routine can significantly decrease your susceptibility to injuries while also enhancing overall running performance. Try these simple balance exercises to add stability to your stride:
While running year-round can be done safely, not many races are scheduled during the winter months, making it a great time for runners to build a good foundation of core and hip strength. If you aspire to complete a 5K, 10K, half or full marathon, it's also an ideal time to create a plan and start training.
Drills designed to improve form and agility contribute to improved lumbar, hip, knee, ankle and foot posture when running. Running can exaggerate imbalances in these areas, which can lead to injury. Physical therapists are an excellent resource to help you uncover any imbalances or faulty mechanics that can lead to injury. A PT can help you design a training program specific to your needs and goals – to build strength, flexibility, endurance and speed.
If you're experiencing pain with running or other activities, reach out to your local Therapeutic Associates clinic to schedule an assessment.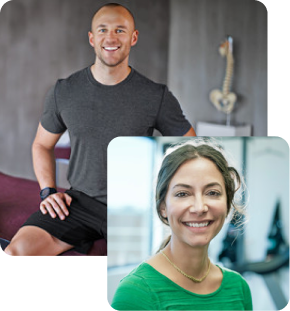 Start your physical therapy journey today.
As physical therapists, we know the importance of movement for overall health and well-being. From injury recovery to achieving optimal performance, our passion is to help every patient reach their goals and live an active, pain-free life. Get started with PT today!