Each October as we celebrate National Physical Therapy Month, we reflect on the power of PT in the lives of patients and practitioners alike.
Physical therapy continues to be one of the fastest-growing occupations in the country, with more than 15,000 openings projected each year for the next decade, according to the U.S. Bureau of Labor Statistics.
While the promising job outlook in the field may play a part, the inspiration to become a physical therapist tends to be more personal. As a career, physical therapy offers an ongoing opportunity to have a meaningful impact on people's lives. Whether their pursuit of physical therapy was prompted by personal experience, a passion for patient care, the practicality of an in-demand job or all these things combined, our PTs take pride in making a tangible difference in people's lives every day.
In their own words, here are some of the PTs at Therapeutic Associates sharing why they chose physical therapy as a career.
"I saw how rewarding physical therapy can be as a profession in helping people get back to even walking. I still love working with patients who have athletic performance goals, but I think that was the draw – even being able to work with people who it's as simple as getting back up on your feet again, walking after a significant injury."
"I got interested in being a physical therapist from actually going through the physical therapy process as a patient. I was maybe 15 years old, and I had a lower back injury from playing soccer. I went to the doctor, and he sent me to PT. During that whole process, I was like, 'Oh wow, this is pretty cool. I might see myself doing this someday.'"
"When I was in college, I shadowed a bunch of health professions, and physical therapy really resonated with me. I like the fact that we look at the person as a whole … we're really trying to get down to the root of the cause and get somebody back to what they love."
"I was an athlete who got hurt often, and I was in and out of physical therapy my entire high school and college career. I found that I liked my physical therapist; we had a different type of interaction than I had with my other healthcare providers. I wanted to go back and be a patient there, so why not change that into making it my profession?"
"When I was researching what I wanted to do in the healthcare field, I knew I wanted time with my patients, that was really, really important to me. I came to TAI and asked if I could shadow, and then I just fell in love with the profession, I was like, 'This is the perfect combination of getting time with your patients and really developing a relationship, and then at the same time really working on their recovery.'"
"The reason I became a PT is I've always been interested in how the body moves and the musculoskeletal system. More than that, I've always wanted to do something where I could help people. With PT you're able to be with someone when they're down and out … and helping them identify what goals they want and being with them each step of the way in order to achieve those goals."
"I became a physical therapist because I love people, I love exercise, I wanted to feel like there was a sense of giving back to my community - that I was working toward communal health and wellbeing in some way. Physical therapy was nice because I got to combine all those things. I feel privileged to be able to work with people on a long-term basis and get to know them."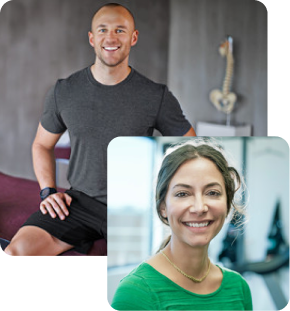 Join the Therapeutic Associates Family
At Therapeutic Associates Physical Therapy, we are always on the lookout for exceptional PT professionals who would be a great fit for our team! With clinics throughout Oregon, Washington, Idaho and California, we have extensive opportunities for those looking for a PT company that values and supports every employee as they grow as physical therapists and leaders in the industry.