Empowering patients to reach their full potential.
At Therapeutic Associates Clackamas Physical Therapy, we are dedicated to providing personalized, compassionate care throughout your health and wellness journey. Our experts want you to be your happiest, healthiest self and focus on individualized, inclusive and evidence-based treatment approaches to support you along the way.
Whether you are recovering from a motor vehicle accident, returning from surgery, healing from a sports or work-related injury, dealing with general aches or pains, or adjusting to life after pregnancy or menopause, we will provide you with everything you need to meet your health goals. A focus on continuing education ensures that each of our therapists is on the leading edge of treatment methods and clinical excellence. Our goal is to provide the most comprehensive, high quality physical therapy care available.
Our physical therapist owned clinic is conveniently located in the heart of Clackamas, at the corner of SE 82nd Avenue and Sunnybrook Road. We focus on providing a comfortable, friendly atmosphere, with a professional and highly educated staff that is dedicated to working with you to provide treatment that is tailored to your needs. We strive to have excellent outcomes with our patients and focus on treating each person as a whole. We want to empower you with knowledge about your condition to help prevent future injuries and symptoms and improve your overall health.
Committed to our community.
We value being a part of the Clackamas community and have a passion for educating the public on the many benefits of physical therapy services. We believe in giving back and regularly volunteer our time and resources for local organizations. As the local experts in musculoskeletal health and movement, we would be honored to be a part of your health and healing to help get you back on the path to wellness and doing what you love!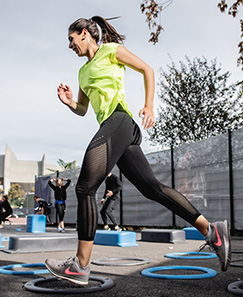 Whatthey say...