Prioritizing personalized treatment.
At Therapeutic Associates Gresham Physical Therapy, we help patients overcome their pain and limitations, reach their potential and achieve their goals by providing effective, personalized treatment. We are committed to empowering you to achieve the best possible outcome.
An integral part of your healthcare team.
Our team honors and values every patient and recognizes that every situation is different. Our helpful office staff will assist you with everything from understanding your insurance benefits to finding appointment times to meet the needs of your schedule. Our experienced clinicians will listen to you, design a customized treatment plan, and make sure you have a positive, successful rehabilitation experience. We are committed to providing you with outstanding care and service and being your health and wellness partner.
Conveniently located in Historic Downtown Gresham on the corner of 3rd and Miller, right across the street from the library, our clinic is physical therapist owned and operated. We focus on evidence-based manual therapy along with exercise and strength training to foster expedited recovery, rehabilitation and injury prevention. An emphasis on continuing education ensures that each of our therapists is on the leading edge of treatment methods and clinical excellence and is ready to guide you on your healing journey.
Dedicated to our local community.
We are proud to be part of the Gresham community and to have the opportunity to support our local charities and organizations within it. Among the groups we support are Sno-Cap, Gresham Barlow Educational Foundation, My Father's House, Meals on Wheels, and the Salvation Army. We partner with local high schools and Mount Hood Community College to provide learning opportunities for local students interested in careers in health care. We also volunteer our time to help local teams with injury prevention and treatment, including Reynolds Little League and Gresham Youth Football.
Check out our clinic space.
Our clinic was designed to empower every patient to reach their full potential, incorporating private treatment spaces and dedicated exercise areas.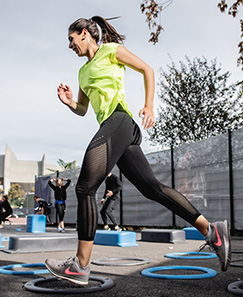 Whatthey say...