Dedicated to being your wellness resource for life.
At Therapeutic Associates Lake Oswego Physical Therapy and Wellness, we pride ourselves on providing a comprehensive approach to health and wellness. We strive to empower you to reach your goals for rehabilitation, overall health, and performance while maximizing your physical potential. We believe that physical therapy is a multifaceted wellness tool based on current and evolving research that combines manual therapy, exercise, and functional movement training. We emphasize hands-on care with practitioners who excel in manual and movement-based therapies to provide effective treatment that will expedite your return to activity through restoring your strength and motion.
Providing a comprehensive approach to rehabilitation and performance training.
Our team approach to health and wellness incorporates multidisciplinary services including massage therapy, acupuncture, nutrition, personal training, and performance training, which all come together to create a comprehensive plan of care that addresses each patient's specific needs. We are committed to creating an environment that caters to individuals of every age and ability — from professional athletes including members of the Portland Trail Blazers to local high school athletes as well as patients navigating postoperative surgical repairs or joint replacements.
We are a strong orthopedic and sports medicine-based facility staffed with a team of highly educated and skilled practitioners who are committed to creating a positive and supportive environment, incorporating evidence-based practice into daily treatment, and promoting a healthy and active lifestyle to all individuals. We look forward to working with you and optimizing your experience on the road to recovery and reaching your specific health, wellness, and performance goals.
Prioritizing our local communities.
We are proud sponsors of our local high schools and pride ourselves on being a health and wellness resource for the LO/Portland community. As rehabilitation, movement, and wellness specialists, we believe in giving back via our time and resources. Our clinic hosts an annual food drive in support of the Oregon Food bank, volunteers at local events including the Portland marathon, participates in community health fairs, and hosts educational forums for the community (with recent topics including concussion prevention and treatment, and the importance of physical activity in the youth population). We believe in supporting a healthy and active lifestyle in individuals of all ages and abilities.
Check out our clinic space.
Our clinic was designed with one purpose in mind: providing all of our athletes and patients with an elite training facility where they can recover faster and reach their maximum potential.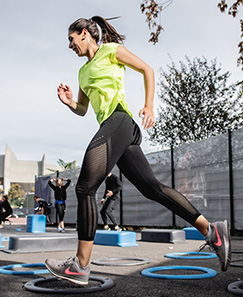 Whatthey say...