Dedicated to patient-specific care.
At Therapeutic Associates Northeast Portland Physical Therapy, we are honored to be an integral part of your healthcare team and are committed to helping you reach your health and wellness goals. Our team of Physical Therapists and front office staff maintain a high standard of customer service and care, and are dedicated to making your journey with us a pleasant, productive, and worry-free experience.
Prioritizing your health and wellness.
Locally owned and operated and conveniently located in the Alameda/Beaumont neighborhood, it is our goal to provide comprehensive physical therapy care to our growing community. Combining a wide-range of skills and specialties, our team of physical therapists focuses on the cause of your condition, not just the symptoms. Our team approach to health and wellness incorporates patient education, so that you understand your condition, know what to expect during recovery and rehabilitation, and recognize how much time you'll need to commit to your journey. 
We are dedicated to providing hands-on evaluation and treatment that results in a positive outcome focused on getting you back to doing all the things you love. Whether you've undergone surgery, are rehabilitating after an injury, or are focused on maintaining and enhancing your movement and performance, we will work with you to develop a customized plan of care. Our team is committed to ongoing professional development to ensure that each of our therapists is on the leading edge of treatment methods and clinical excellence. Our focus is you.
Actively engaging with our local communities.
As part of our company and clinic core values, we promote health and well-being and a culture of giving back to our communities. We value the partnerships we share with our local businesses and neighbors through sponsorships and educational forums, and volunteer our time at local events. As your local musculoskeletal experts, it is our commitment to help our community maintain healthy and active lifestyles.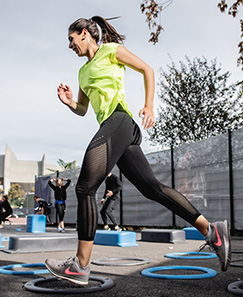 Whatthey say...