Your trusted therapy partner.
Therapeutic Associates Northwest Portland Physical Therapy has been serving our neighborhood community for more than 60 years. We are committed to delivering exceptional customer experiences and optimizing patient outcomes.
Maximizing patient potential.
Our physical therapists are dedicated to making sure every patient has a positive, successful experience during their pursuit of recovery, rehabilitation and journey to optimal performance, health and wellness. Our focus is providing the highest-quality, state-of-the-art, individualized physical therapy treatment. We will listen, provide individualized, compassionate care and work as a trusted team to help achieve your goals. Together, we will work to regain your strength and confidence.
Conveniently located across from REI in the Pearl district, our welcoming, spacious clinic offers extended hours of operation with reserved parking. In addition to general orthopedic care, our staff specializes in treating a range of conditions, utilizing a wide variety of physical therapy services. Our focus is to help you recover from injury as quickly and safely as possible, to get you back to doing the things you love while providing you the tools to stay active throughout your lifetime.
Committed to our community.
We foster a culture of giving and service in our community by supporting our local schools, running clubs, cycling teams, and employers to help promote safety, injury prevention, and excellence. It is our commitment to help our neighbors maintain healthy and active lifestyles.
Check out our clinic space.
Our clinic was designed to empower every patient to reach their full potential, incorporating private treatment spaces and dedicated exercise areas.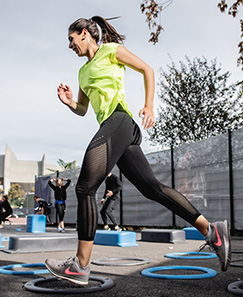 Whatthey say...