Your wellness resource for life.
At Therapeutic Associates Oregon City Physical Therapy we are dedicated to helping our community stay active, recover from injury and get the most out of life. We provide the highest quality physical therapy, performance training, athletic medicine, and wellness services to help you meet your goals and gain the tools needed to stay active throughout your lifetime.
Offering personalized treatment and care.
Our locally owned and operated clinic is conveniently located across from Dutch Bros on the corner of Division Street and Molalla Avenue in Oregon City. We strive to maintain a fun, upbeat environment equipped to provide exceptional, individualized care to patients of all ages and abilities. Our focus is to decrease pain, improve sports and fitness performance, and return patients to normal functional activities. With a focus on continuing education, we aim to ensure each member of our team reaches the highest level of training and certification. 
We specialize in treating sports-related injuries for athletes of all ages and pair our skilled Physical Therapy with our Sports Performance Training program to help you reach your ultimate goals of returning and excelling at your sport. We also provide skilled care to non-athletic related injuries with highly-trained, licensed physical therapists who have advanced training in manual therapy and managing surgical and non-surgical conditions. Our expert staff treats a large variety of orthopedic conditions utilizing a wide range of physical therapy services.
Supporting our local communities.
We are passionate about serving the Oregon City community and surrounding areas and we give back our time and resources to help its members. We are committed to not only caring for athletes when they are injured, but to also preventing injury with both free injury screens and top-of-the-line Sports Performance Training for the community. We also give back with various volunteer events in the community and abroad with medical missions.
Check out our clinic space.
Our clinic was designed to empower every patient to reach their full potential, incorporating private treatment spaces and dedicated exercise areas.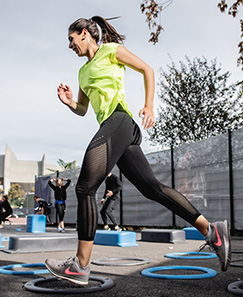 Whatthey say...