Dedicated to getting you better faster.
At Therapeutic Associates Sellwood Physical Therapy we are committed to ensuring our patients receive quality care with their physical therapy team in a fun, welcoming, and encouraging environment. We utilize advanced orthopaedic manual therapy techniques to help reduce each patient's length of care and maximize their results.
Empowering patients through education and intervention.
We strive to ensure all patients experience the best possible results by educating them about their conditions, utilizing the most current research-driven intervention techniques in combination with clinical expertise, and using an active approach to treatment that will empower each patient for the long run. As highly trained healthcare professionals, our PTs design individualized plans for every patient, whether they're treating an injury, addressing pain, managing a chronic disease or illness or focussing on movement function and performance.
We are located in the corner brick building in the heart of Sellwood on 17th Avenue between Umatilla and Harney. Our clinic is therapist owned and operated and designed to provide you with the space and tools you need to optimize your musculoskeletal system and conquer mobility and motion challenges so you can live a pain-free, active life doing all the things you love to do. A focus on continuing education ensures that each of our therapists are on the leading edge of treatment methods and clinical excellence.
Prioritizing local communities.
Our clinic is so fortunate to be a part of the wonderful Sellwood neighborhood. Our clinic director and staff are dedicated to giving back to the community through participation with the Sellwood Moreland Business Alliance,  as well as sponsoring charitable events and fundraisers. We have provided free injury prevention screens for the local schools and other organizations to keep our community members happy and healthy. You can also find us as a sponsor to the local events that make our community unique.
Check out our clinic space.
Our clinic was designed to empower every patient to reach their full potential, incorporating private treatment spaces and dedicated exercise areas.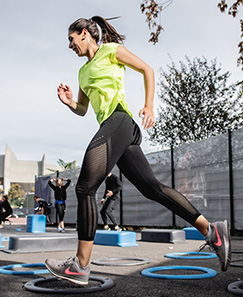 Whatthey say...