A personalized approach to your wellbeing.
At Therapeutic Associates Sherwood Physical Therapy our passion is helping our patients maximize their quality of life through movement, hands-on therapy and education. We are committed to evidenced-based care, and we honor our patient's preferences by employing shared decision making in a collaborative environment.
Your choice for physical therapy.
Sherwood Physical Therapy is a friendly, fun, community-integrated practice that treats patients of all ages and abilities. We take pride in our successful management of complex patient cases. An emphasis on manual therapy paired with directly relevant exercise as the core of all our treatments ensures optimal outcomes. Our focus is you!
We are locally owned and operated and conveniently located across the street from the Home Depot at the intersection of Hwy 99 and Langer Parkway. A focus on continuing education ensures that each of our therapists is on the leading edge of treatment methods for a wide range of conditions and services.
Prioritizing local communities.
We are proud to be a part of the vibrant Sherwood community and to have the opportunity to give back to its residents and guests through sponsorship of events and in providing educational outreach. It is our commitment to help our neighbors maintain healthy and active lifestyles.
Check out our clinic space.
Our clinic was designed to empower every patient to reach their full potential, incorporating private treatment spaces and dedicated exercise areas.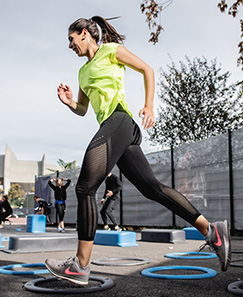 Whatthey say...
I injured my shoulder, but was amazed at the recovery I had with Laura and Tony at TAI Sherwood. ... read moreI injured my shoulder, but was amazed at the recovery I had with Laura and Tony at TAI Sherwood. I was happy to be 99% better by the time my next doctor appointment and consultation was scheduled. Some of the exercises I've even incorporated into my normal workout routine. This staff is excellent with recovery and any questions I had along the way. read less
I injured my knee less than 3 weeks before a track & field meet and needed immediate help in order... read moreI injured my knee less than 3 weeks before a track & field meet and needed immediate help in order to maximize my chances of being able to compete. Laura Evans gave me exactly what I needed in both treatment and advice. My knee recovered to the point that I could run and jump successfully in the competition without pain. Thanks Laura! read less