Comprehensive care designed to empower you to reach your goals.
At Therapeutic Associates Physical Therapy – St. Johns, we are devoted to providing expert patient care in a welcoming and encouraging atmosphere. We combine clinical expertise, current research and personalized treatment plans based on patient preferences to ensure that everyone we work with is empowered to reach their goals, increase function and embrace a healthy lifestyle.
Your choice for physical therapy.
At the core of our treatment approach, we emphasize manual therapy with a focus on individualized therapeutic exercise. We specialize in orthopedic physical therapy, sports rehabilitation, pre- and post-operative rehabilitation, and chronic conditions that have not responded to previous treatments. We will listen, learn your story, and work with you to address your individual situation and help you on your healing journey.
Our locally owned and operated clinic is conveniently located on the corner of N Ivanhoe St. and N Richmond Ave., in the business park adjacent to Safeway. Whether you've undergone surgery, are rehabilitating after an injury, or are focused on maintaining and enhancing your movement and performance, as integral members of your healthcare team, your success is our success as we get you back to the life you envision.
Committed to our community.
We are committed to our local communities and value the opportunity to provide sponsorships and educational forums to support people of all ages and abilities. As rehabilitation, movement, and wellness specialists, we believe in giving back and value the partnership we share in helping our community members maintain healthy and active lifestyles.
Check out our clinic space.
Our clinic was designed to empower every patient to reach their full potential, incorporating private treatment spaces and dedicated exercise areas.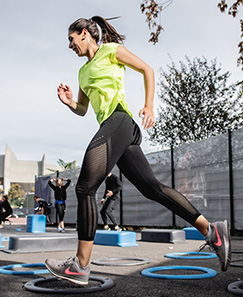 Whatthey say...