Committed to collaborative care.
At Therapeutic Associates Physical Therapy – Tigard our goal is to maintain an innovative, collaborative environment where patients can achieve their fullest potential by working with a highly qualified team of movement experts.
Your physical therapy partner for life.
Conveniently located near the I-5 Carman Drive exit near the intersection of Durham Road and Upper Boones Ferry Road, our locally owned and operated clinic features an encouraging, compassionate environment. We are dedicated to working with you through shared decision making on your recovery journey to ensure you achieve the best possible outcome. We strive to empower every patient with the knowledge, understanding and inspiration they need to stay active and healthy throughout their lifetime. 
Our staff has advanced training in orthopedic and manual therapy and we strive to remain at the forefront of healthcare education and movement science research, so those we treat receive the most advanced, dynamic care available. Whether you are recovering from a motor vehicle accident, returning from surgery, healing from a sports or work-related injury, or are dealing with general aches or pains, our highly trained, compassionate staff will provide you with everything you need to meet your health goals.
Supporting our local communities.
We are committed to our community. Those in our staff have volunteered with your football, baseball and soccer programs in the Tigard-Tualatin area, participated in local community events, and provided pro bono services to local youth athletes. It is our commitment to help our neighbors maintain healthy and active lifestyles.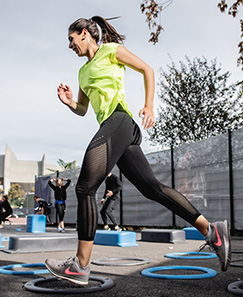 Whatthey say...