Your passion is our priority.
At Therapeutic Associates West Linn Physical Therapy, we believe in the power of movement and the positive change physical therapy brings to daily life, sport, and recreation for all ages. We are dedicated to providing compassionate, goal-driven, individualized therapeutic care and performance training to patients of all ages and abilities.
Your physical therapy partner for life.
Our physical therapy team specializes in quality therapeutic injury rehabilitation, injury prevention, wellness focused programs, and various athletic performance enhancement training utilizing a multi-disciplinary approach. We are your teammates for life and are committed to putting you first. This means we provide individual time with each patient and client, make sure your goals and expectations for care are clear with regular check-ins, and utilize the latest in evidence-based interventions to get you back to the activities you love efficiently. Your success is our success as we meet goals together.
Our locally owned and operated clinic is conveniently located on the corner of Willamette Drive and Hidden Springs Road in the Robinwood Plaza. We continually work to enhance our team's ability to meet the needs of every patient by supporting our providers' continuing education and their pursuit of advanced specialty certifications. We strive to remain at the forefront of healthcare education and movement science research, so those we treat receive the most advanced, dynamic care available. We would love to help you meet your fitness goals, live an active life, and prevent future injuries.
Dedicated to our community.
Beyond the clinic, our hearts are driven to give back and serve through volunteering our time in the local community. Our holistic approach to physical therapy and dedication to healthy and active living does not stop at the clinic walls.We are proud to be a part of the vibrant West Linn community and to have the opportunity to give back to its residents and guests through sponsorship of events, supporting the local schools and their athletic teams, providing educational outreach and as a part of their healthcare teams.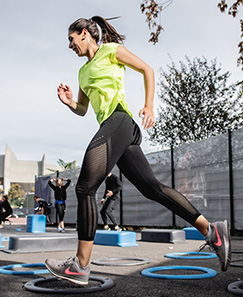 Whatthey say...