At Therapeutic Associates Medford Physical Therapy we are dedicated to working with you to create a unique treatment plan designed around your individual needs and goals. We are committed to empowering you in your journey to optimal healing and maximum recovery and function.
Offering personalized treatment and care.
Locally owned and operated, our clinic is conveniently located on the corner of Barnett and Highland on the second floor of the Peoples Bank Building. We feature a friendly and encouraging environment, known for exceptional results and an upbeat atmosphere, providing physical therapy and sports medicine services for patients of all ages. Se habla espanol.
Whether you're rehabilitating after an injury, have undergone surgery, or are focused on maintaining and enhancing your movement and performance, our team of experienced physical therapists will work collaboratively with you to develop a customized plan of care. We strive to ensure every patient we see is empowered on their journey back to all the activities they love.
Supporting our local communities.
We are committed to giving back and supporting the communities throughout our region. Medford is a close-knit, growing community, and we are proud to support its members through sponsoring and participating in fun runs, golfing and biking events, Rotary club, as coaches and mentors and through sponsoring local athletes and teams. Some of our recent recipients include: Phoenix high school athletics, Medford National Little League, The Holiday Hustle, Ride the Rogue, The Medford Cruise, and the Greater Medford Rotary.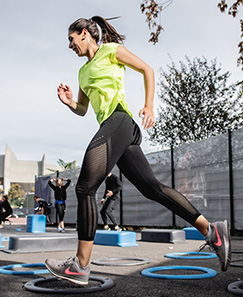 Whatthey say...