Guiding you back to the activities you love.
At Therapeutic Associates Physical Therapy – Shoreline, our goal is to improve your quality of life by facilitating your return to movement. Our highly skilled Shoreline physical therapy team is here to develop a treatment plan for your safe and efficient return to an active lifestyle. 
Physical therapy designed for you.
Our clinic team works hard to ensure patients of all ages and abilities feel inspired and supported throughout their physical therapy journey. We are committed to professional development keeping us up to date on the most current research and techniques to maximize patient results. Whether its improving range of motion, building strength, or improving flexibility and balance, we use our deep understanding of dysfunctional movement and injury to provide personalized treatment programs.
If you, a friend, or loved one is experiencing pain, discomfort, stiffness, or difficulty moving, please give our clinic a call. Whether you've been living with the symptoms for days or years, we can help and we look forward to the opportunity to work with you. Our locally owned and operated clinic is conveniently located in Shoreline on Ballinger Way. We are minutes from the Mountlake Terrace transit center and proudly serve the surrounding communities of Shoreline, Lake Forest Park, Brier, Kenmore, Mountlake Terrace and beyond.
We are proud to be a part of our diverse local communities supporting area school districts, sports/recreational teams, community events, and fundraisers. We also work to educate the general public on health issues and the prevention of injuries. As your local experts in musculoskeletal health, it is our commitment to help our neighbors maintain healthy and active lifestyles. 
Check out our clinic space.
Our clinic was designed to empower every patient to reach their full potential, incorporating private treatment spaces and dedicated exercise areas.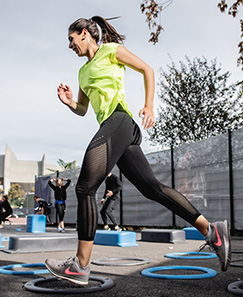 Whatthey say...