Focused on helping you reach your greatest potential.
Our physical therapists are passionate about helping you optimize your musculoskeletal system so you can enjoy movement and all aspects of your life every day. We are dedicated to helping you improve your quality of life and reach your greatest rehabilitation and performance potential. We feature expert clinicians, comprehensive treatments and compassionate care.
Your lifetime physical therapy partner.
At locally owned and operated Therapeutic Associates West Kennewick Physical Therapy, our physical therapists are experts in improving mobility and motion while reducing pain to keep you actively engaged in all your favorite activities. If you've suffered an injury, are dealing with aches and pains or want to maximize your performance while preventing an injury, we're here for you. Our physical therapists use evidence-based manual therapy techniques, functional exercise and education to ensure the best results for our patients.
We feature a wide array of treatment options and treat all areas of the body in patients of all ages and abilities. Here you'll experience an encouraging, friendly, calm atmosphere where you receive professional, nurturing care in a whole person approach to rehabilitation. Your health is our highest priority. You'll get back to enjoying your life sooner with our advanced physical therapy treatments, flexible scheduling and consistent care. From injury recovery to gaining a competitive edge we are here to help you reach your goals.
Supporting our local communities.
Giving back to the community is a part of who we are. We give back to our community through free community education events, local sporting events, local school organizations, youth organizations, Veterans organizations, and community improvement projects. As your local musculoskeletal experts, it is our clinic's commitment to help our neighbors maintain healthy and active lifestyles.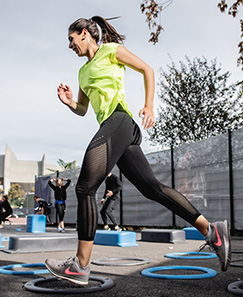 Whatthey say...