The transition from high school to college can be a difficult time of change, athletics notwithstanding. In addition, the challenge of progressing from high school senior to life as a college freshman athlete can be daunting, filled with unknowns. This is not surprising, given how demanding college sports are both physically and mentally. When surveyed, college strength and conditioning coaches have indicated that incoming freshman lack appropriate preparation, demonstrating deficits in strength, flexibility, core strength, and lifting technique.1 This leads to increased injury risk and decreased performance as the college freshman overreaches, unprepared for the new training and performance demands. Here are a few ways to help combat preparation ambiguity, avoid injury, and ensure a smooth transition into the opening years of college athletics. 
Participating in college sports, whether that be at the NJCAA or NCAA level, means something different to every athlete. For some, sport is a way to connect to a social group, while others are driven by the desire to compete at an elite level. Neither of these is more correct. Sports is community for everyone. But in order to meet the new challenges intrinsic to the college experience, you and your coaching staff need to set collaborative goals that will guide your college journey. Take time to be mindful and write down what you want to prioritize in the upcoming college experience. Ask yourself what you value from your sports experience. Once you've identified what you want to achieve in the realm of athletics, you are ready to begin a conversation with your coaching staff.
Beginning an early, open dialogue can help ensure that you take part in a community where you can enjoy the process and perform up to your potential. Discuss with staff both what you expect to achieve and what you've done in the past to arrive at this point. Discussing how much training and preparation you've made prior to the regular training session can help dissolve unrealistic training and performance expectations. It may be tempting to inflate how much you were able to handle in the past but be cautious – this quickly leads to overload and injury. If possible, connect your college coach with your high school coach so that staff can develop a better sense of your previous training load. This will help guide your future training load and facilitate optimal response to training.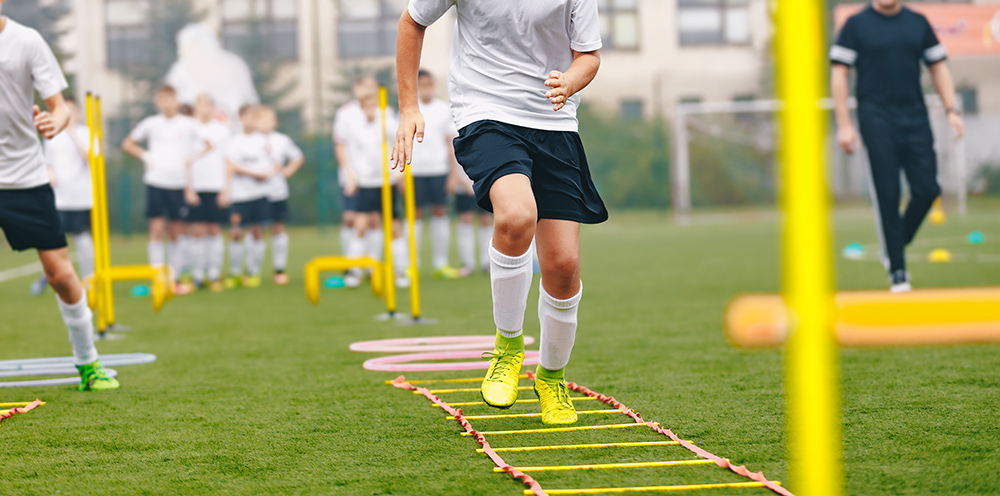 If you are unable to clearly communicate expectations and previous preparation, you may be at high risk for becoming overloaded and developing an injury early in your college experience. Overtraining can lead to suboptimal performance and missed play time.2 To avoid overload, talk with your college coach about implementing a plan for gradual assimilation into the team's training and performance schedule. The general rule of thumb is not to increase demands on the body by more than 10-20 percent per week, beginning with what you were able to handle previously. The emphasis should be on a GRADUAL increase in training load. Signs of overload on the body should be monitored closely. If signs appear, communicate with your coach and medical staff immediately. Signs may include: 
In addition to monitoring for signs of overtraining and communicating early, incoming athletes can take steps to help prevent overload on the body by beginning preparation early. Your local physical therapist can help you prepare for this transition by collaborating on a plan to increase strength, increase flexibility, and introduce ideal movement and lifting patterns that will help you meet your sport–specific demands. Personalized sports therapy is an optimal way to increase performance and avoid injury, as well as recover from injury quickly and safely.  
This can be a difficult, yet exciting time. Beginning with clear expectations, open communication, and an awareness of potential signs of overtraining helps ensure optimal performance over the course of your college career. Remember that the first year can feel extremely difficult as you take time to acclimate to a new setting and new training demands. Even in elite athletes, high school age performance is poorly predictive of later ranking and ability to be world-class.3 Don't be discouraged if you have a difficult time replicating high school performances as you adapt to the college program. Be patient, trust in the process of gradual improvement, and begin preparation today.   
Wade SM, Pope ZC, Simonson SR. How prepared are college freshmen athletes for the rigors of college strength and conditioning? A survey of college strength and conditioning coaches. J Strength Cond Res. 2014;28(10):2746-2753. doi:10.1519/JSC.0000000000000473 

Carrard J, Rigort AC, Appenzeller-Herzog C, et al. Diagnosing Overtraining Syndrome: A Scoping Review [published online ahead of print, 2021 Sep 9]. Sports Health. 2021;19417381211044739. doi:10.1177/19417381211044739 

Boccia G, Cardinale M, Brustio PR. Performance progression of elite jumpers: Early performances do not predict later success. Scand J Med Sci Sports. 2021;31(1):132-139. doi:10.1111/sms.13819 

Putukian M. Female athlete triad. Sports Med Arthrosc Rev. 1995;3(4):295-307. doi:10.1097/00132585-199500340-00007 
Dustin is a 3rd year Doctor of Physical Therapy Student studying at the University of Washington, with a BS in Exercise Science from Western Oregon University. Dustin competed for both UW and WOU collegiately in Track and Field. Dustin is an avid runner and backpacker and is passionate about helping athletes of every level improve performance. Dustin has a mile PR of 3:59 and is a 3 x NCAA D2 T&F National Champion.