Aquatic Therapy is an important tool for use with a variety of patients to accelerate return to prior function. It can be the key to speedy recovery. The pool allows walking and running activities without full weight-bearing and incorporates those activities earlier in rehabilitation. The buoyancy of the water makes exercise easier on joints while the viscosity of the water allows multiple levels of resistance.
We incorporate unique manual therapy techniques and exercise equipment designed specifically for rehabilitation in the water. Most importantly, our program involves one-on-one sessions and an individualized physical therapy exercise plan to meet the needs of each patient.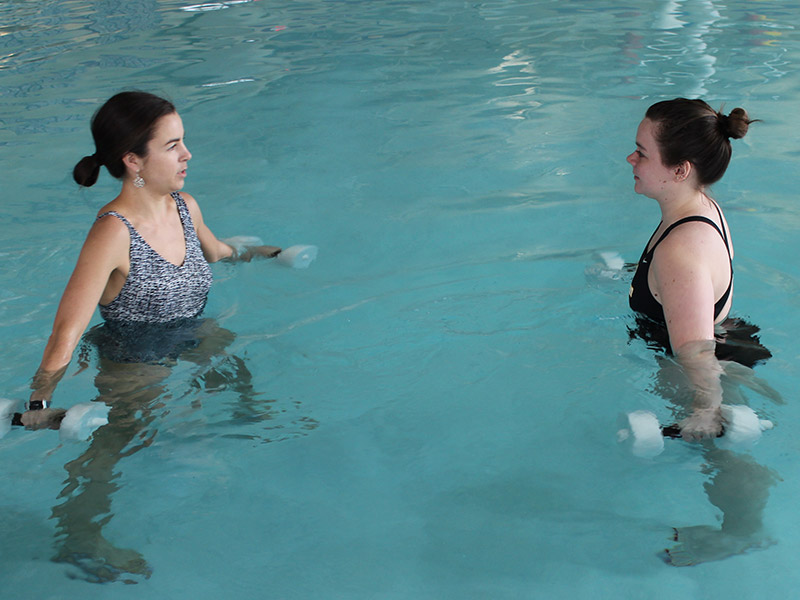 Who can benefit from aquatic therapy?
Aquatic therapy is perfect for anyone who requires limited weight-bearing, joint protection (those suffering from Arthritis, osteoporosis, and/or low back pain), or rehab with emphasis on cardiovascular and general strength conditioning. Those who have had surgery (ACL reconstruction, total knee arthroplasty, total hip arthroplasty, fusions, rotator cuff repair), low back dysfunction, athletic injuries, neurological conditions (including Parkinson's, ALS, multiple sclerosis, stroke, or polio), or multiple injuries may also benefit from Aquatic Therapy.
Why choose aquatic therapy?