Since he was a kid, Ken Call has loved helping people and he always knew he wanted to be in healthcare, which led him to his career in physical therapy. As a PT and clinic director at Therapeutic Associates West Kennewick Physical Therapy, Ken appreciates the opportunity to work with everyone from professional athletes to everyday people who are simply trying to stay active and enjoy the things they love. An active and avid outdoorsman himself, he loves the Tri-Cities region and community and can often be found taking advantage of the recreation that abounds – including biking, camping and kayaking – with his family.
Q: What's your favorite part about being a PT?
What do I love about being a physical therapist? It's that no two patients are the same and so I can see four shoulder patients and every one of them is going to be different. I just love being able to help people get better, and I learn as much from them as they learn from me. I look at it as a shared experience – I get to be active, I get to help people. Having done this for 25 years at West Kennewick, it's just been a blessing to meet so many different people.
Q: What personal attribute is most important in your role as a PT?
I had a patient here yesterday who said, Ken I want to take some time to talk with you. He's been a patient here for several years off and on, and his wife has as well. He expressed to me, he said, 'Ken I want you to know that what I see with you is you help people become a better form of themselves, whatever it might be. Not just from a physical standpoint but from a standpoint of relationship building, from employer or employee.' And so I guess what I would say is that as he suggested, I have the ability to talk and get to know people and help them become better themselves, and so I think that if you were looking at gosh what Ken did as he helps each individual become better.
Q: Helping other people become their best selves is truly admirable. What do you do to push yourself?
I love to learn and so I'm always taking continuing education classes. I'm looking at ways to improve who I am as an individual, and that's through the progression of my schooling. I also love to push myself physically. I've done two half iron distance triathlons. I've done the Seattle to Portland bike race. I'm getting ready this year, for some reason, to do Tour de Blast, which is a ride about 9000 vertical feet up to the top of the Johnson Observatory, with some friends, for fun … and so people will ask, well, why is that fun? Well, I like to push myself! We have a lot of athletes that will come into the clinic who push themselves, and that's led me to be active in the sports community.
Q: You're ambitious! Do you ever slow down, maybe take a vacation?
I believe in a balanced life. Family is super important. I love to be with family, and I love the outdoors and so we will often be out camping, kayaking or riding bikes. One of my most recent vacations, just enjoying time away from work, was my wife and I spent a week up in Glacier National Park. We were able to see a lot of different scenery, a lot of wildlife, and just enjoy some quiet time. We had another couple with us, too, and so it was just downtime just to be able to relax. That was a wonderful vacation.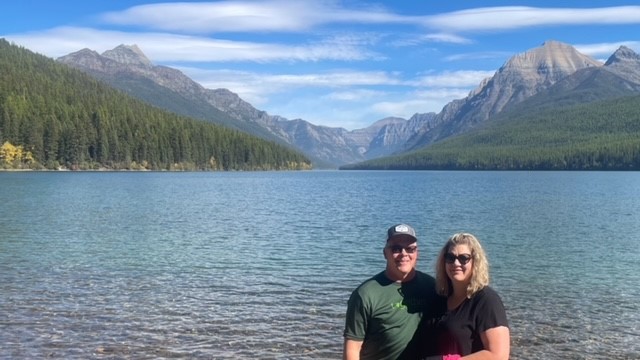 Q: Do you have any other favorite family adventures?
One of my most precious memories is I went to South Africa with my father. He had had some health issues and I'm a proponent of physical therapy. And, so, I told him, 'Dad, when you get out of the hospital, go to physical therapy, do all your exercises, find a safari in South Africa and go on it.' And one day he gives me a call and says, 'Ken I need $3500 from ya.' I was like oh great, did somebody sell you a new roof? But he had found a safari! And, so, one of my memories with him was going to South Africa, at 90, and he checked off a bucket list item. South Africa wasn't a bucket list item for me, it was a bucket list item to spend time with my dad. I'm so glad I took that time, and I think that is one thing I'm trying to help patients with is being able to take time to be with people … because he passed away a year ago.
Q: That definitely sounds like one for the memory books. Do you have any adventures coming up to fill the next pages with?
I've got a son who's a Survivor superfan and he asked me if I would go to Fiji with him this year as he's celebrating his 30th birthday. And so in September of this year, we hope to be in Fiji and he's hoping to sneak onto the set of Survivor someplace. He's already tried to scope out some of the islands and he thinks that it may be whatever the Ponderosa is. I'm learning about Survivor, but we're going to go and I'm going to get scuba certified and we're going to go scuba diving and we're just going to enjoy some more of the beautiful nature and creations that are on this earth together.
Q: So, you haven't watched a lot of Survivor yourself, what about books – do you have a favorite?
I do like to read. As I said, I love to study and learn and so some of the stuff that I study and learn is about different cultures and different societies. I'm reading the Hebrew Bible right now (in English, not Hebrew … I wish I could speak the language, but I can't). So again, to me, just reading and just gaining knowledge for knowledge's sake and then applying it to our lives is such an important thing.
One of my favorite memories is when the Harry Potter series came out and so many people were like, 'Oh my gosh, it's horrible, you can't let your kids read this!' and I would read it to my kids at night. I read the first two books to them and then by that time they started to read them themselves and they were not waiting for Dad anymore. So, they're avid readers now. I went back and I did finish reading the Harry Potter series on my own.
Q: How do you like to start and end your workday?
I start my day early in the morning and usually I'll have 15 minutes of quiet meditation time. Then when I get to work, I will start the workday by looking at the patients on the schedule, reviewing those and trying to make some determinations of what we want to try and accomplish with that day's episode of care.
How do I end my workday? If I didn't exercise in the morning or if I didn't jump on a bike over lunch then I'm going to try and end my day by getting some kind of exercise. I really believe that we should practice what we preach and we're telling people to get moving, get moving, get moving … so we should be moving ourselves.
Q: What do you wish everyone knew about physical therapy?
I wish everyone knew that most of them have direct access and can come to us without a physician's referral. I wish everyone knew that physical therapy can really help everyone get active and moving. Oftentimes what I talk to our patients about is some very holistic types of lifestyle choices, and I'll talk about food – how long can you go without food? Water – how long can you go without water? Sleep – how long can you go without sleep? Air – how long can you go without air?  And if you really look at those backward, air is the most important thing. So, we work with our patients on specific breathing mechanics that will help calm down the nervous system. Then, sleep. We need to sleep. It's critically important. If we're not doing the base things then it's very difficult to help people have a healthy, active lifestyle. We don't want to just look at physical ability. We want to also look at the mental, emotional, and intellectual things that they're doing so that they can really live the life that they are desiring.
At Therapeutic Associates West Kennewick Physical Therapy, we are here to help you achieve your goals quickly and safely. Here, we focus on treating the whole person with a holistic approach, while prioritizing recovery and rehabilitation to ensure everyone we work with can ultimately live the life they want.