Thank you for your question. In general, pain on the inner (medial) side of a person's kneecap following a knee sprain can be caused by a number of different things. Without doing an examination, we're not able to comment on your specific condition or the underlying biology of what is causing your pain, but we can outline some possibilities.
Some potential causes of medial knee pain include:
irritation of the joint between the kneecap and the thigh bone (known as patellofemoral pain syndrome)
injury to the medial collateral ligament (along the inside edge of your knee joint line)
injury to the meniscus (cartilage within your knee joint that acts to help the knee be more stable and absorbs force)
strain of the medial retinaculum
arthritis of the joints of the knee
From what you are describing, we do not have enough information to definitively diagnose the cause of your pain. Also, it is not uncommon for individuals to demonstrate multiple causes of knee pain.
Manual therapy such as the kneecap mobilizations and quad massages you are describing can help improve symptoms associated with patellofemoral pain syndrome. However, these techniques can also be helpful for other causes of knee pain as well. With manual therapy techniques in general, the effectiveness of the techniques is dependent on the individual following it with appropriate exercise. 
A physical therapist will follow up manual therapy with prescription of specific exercises to address the individual's weaknesses or underlying cause of pain and to prevent the symptoms from continuing or recurring. They may determine that it is appropriate to use taping techniques to make the knee feel more comfortable with exercise in the short term.
Exercise treatments for medial knee pain depend on the cause of the pain as well as the individual's strengths, weaknesses, and joint and muscle mobility. These exercises often include targeted strengthening of the individual's hip musculature to improve stability of the thigh bone (femur), stretching for tight muscles, and strengthening of the muscles surrounding the knee. You may try using a foam roller to address quadriceps tightness or stretching your quadriceps muscles since it was helpful for your physical therapist to mobilize these muscles.
To more specifically answer your questions from above:
Typically, immobilization is not suggested for injuries such as yours since it causes further muscle weakening without addressing the underlying cause of your pain. Since you have had pain for a longer period of time, it is unlikely that additional tissues need to heal for your knee to feel better. More likely, there is a specific soft tissue or joint structure that is irritated when you are loading your knee in exercise. Most individuals benefit more from activity modification in which they avoid or modify activities that are painful than from immobilization.
Ice can be used for pain management in the event you are having significant pain, but is not helpful for improving tissue healing. The cold causes blood vessels near the ice to constrict and therefore temporarily impedes the supply of nutrients to the injured area. 
Your questions about surgery and injections are out of our scope of practice as physical therapists. You may consider consulting an orthopedist or sports medicine physician regarding these questions. However, we can give you some very general information:

Steroid and PRP injections are typically only performed into a joint capsule where the injected material will be relatively trapped. The medial retinaculum is a soft tissue structure outside of your knee joint capsule and an injection there would likely be dispersed throughout your body's bloodstream.
Depending on the underlying cause of your knee pain, you could potentially be a candidate for knee surgery. However, surgery is often only considered in cases in which the individual's pain is interfering with their day-to-day activities (outside of exercise) or the individual has performed a full course of physical therapy without seeing improvements in their symptoms.
We recommend that you follow up with your physical therapist for further treatment of your knee pain and instruction in self-care techniques and exercises to help you improve your condition without attending physical therapy as often.
Ask your physical therapist about treatment options that focus on the areas around your knee (such as your hip and/or ankle) which may be contributing to your symptoms. You may also ask about taping techniques to help stabilize your kneecap during exercise in the short-term. If your physical therapist is unwilling to consider these options, you may consider seeking the opinion of a second physical therapist. A physical therapist who has assessed your knee will also be able to assess the need for you to consult with an orthopedist or other physician regarding injections and surgical options for care.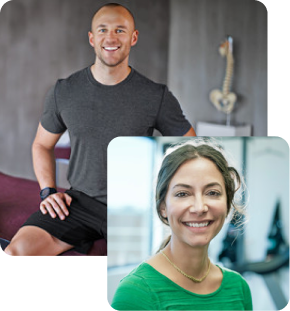 Your physical therapy partner.
If you're still unsure about how to get started, a physical therapist can help. As movement experts, PTs have the education and experience to assess your condition and will work with you to create a customized plan to get you to your goals as quickly and safely as possible.