We are sorry to hear that you are having pain in your right hip. While we cannot make specific recommendations regarding your case without doing a thorough evaluation, we can offer some general information that may be helpful for you.
It is possible to have weakness that leads to pain. Whether the hip pain you are experiencing is due to weakness in your core, or your hips, can only be determined with a thorough biomechanical exam, such as a physical therapist could provide. Consulting with a physical therapist is the optimal way to rule out any injuries or musculoskeletal dysfunction.
In general, some muscle soreness is okay following a workout. This sensation is referred to as DOMS, Delayed Onset Muscle Soreness, and can be beneficial because it is the body getting stronger. However, exercises that cause sharp pain should be avoided. Have you heard the old saying "No pain, no gain," … well, it doesn't work. One exception to this may be the "hurst so good" sensation that often comes with foam rolling. It is possible that foam rolling may help relieve your muscle pain. This type of myofascial release is essentially self-massage.
As for getting through the workday, trying to optimize your computer workstation to be ergonomically sound can be very helpful. It is hard to speak to your sitting position without knowing how you are sitting and what your workstation looks like. Alternating sitting and standing could potentially be of benefit if you have a sit/stand desk but getting up to move and stretch at least once an hour is the best way to ensure your work doesn't wind up causing you more problems with your hip pain. Check out the resources below for more tips on ergonomics!
Overall, the best piece of advice I can give is to have an evaluation by a licensed physical therapist. They will be able to properly diagnose what is causing your pain and develop a plan of care that will address your specific scenario and prescribe exercises that match your strength and goals. They can also evaluate your sitting position and offer additional resources on ergonomics.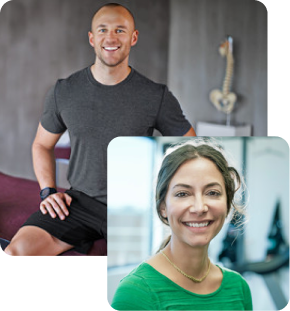 Start your physical therapy journey today.
As physical therapists, we know the importance of movement for overall health and well-being. From injury recovery to achieving optimal performance, our passion is to help every patient reach their goals and live an active, pain-free life. Get started with PT today!