The HIPAA Privacy Rule provides federal protections for personal health information held by covered entities and gives patients an array of rights with respect to that information. At the same time, the Privacy Rule is balanced so that it permits the disclosure of personal health information needed for patient care and other important purposes.
The Security Rule specifies a series of administrative, physical, and technical safeguards for covered entities to use to assure the confidentiality, integrity, and availability of electronic protected health information.
Therapeutic Associates respects the privacy of our customers, and we have invested in an email encryption system from Mimecast in order to protect the rights of our patients and customers. This encryption system will allow us to share sensitive information, including healthcare-related data, through electronic mail.
If you have received an email from Therapeutic Associates that is encrypted, you must complete the registration process ONCE in order to receive the information electronically. Any future email received by the same address will be password protected, and you will be required to input your email and password to view the content. This process only takes a minute and will protect your personal information.
Healthcare Consumers:
Your Health Information Is Protected By Federal Law
Most of us believe that our medical and other health information is private and should be protected. We want to know who has this information. The Privacy Rule, a Federal law, gives you rights over your health information and sets rules and limits on who can look at and receive your health information. The Privacy Rule applies to all forms of individuals' protected health information, whether electronic, written, or oral. The Security Rule, a Federal law that protects health information in electronic form, requires entities covered by HIPAA to ensure that electronic protected health information is secure.
Healthcare Providers:
Therapeutic Associates uses an electronic medical records system, and we are able to communicate patient documentation with our referring physicians via our encrypted e-mail system. If you are interested in establishing this communication tool with our clinics, please contact your Therapeutic Associates clinic.
If your medical practice uses an EMR system, this would allow you to save physical therapy documentation directly into your system for convenient reference and record keeping.
For those payers requiring physician signatures on care plans, we still need to receive a signed copy of our care plan via fax or snail mail.
Encrypted E-mail Use
Therapeutic Associates and Northwest Rehab Alliance use an encrypted e-mail system that protects confidential information sent outside of our network. This can include, but is not limited to, HIPAA-protected information as well as anything our e-mail users want to tag as confidential.
The document below will show examples of what an end user should expect to see on the first encrypted message they receive.

Initial Greeting E-mail
You will see this initial e-mail greeting if this is the first time that a secure message has been sent. You will need to copy or make note of the temporary password at the bottom of the Secure Messaging Password Notification e-mail. You will then need to click on the underlined orange "here" toward the middle of the message to visit the initial registration site.
Note: The credentials that MUST be used to access the Secure Messaging Portal are displayed under Login Information.
Registration Screen
Enter your email address on the first screen and click "Next".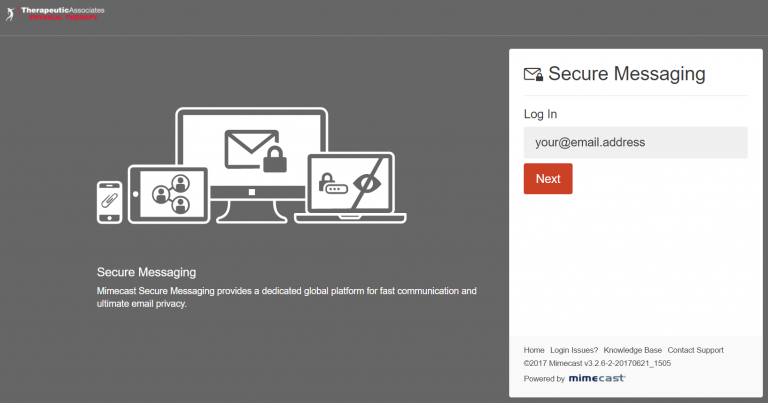 You will immediately be prompted to change your password. Enter the temporary password that was emailed to you in the first email, and then enter your new password in the two following fields before clicking "Confirm".
Note: Make sure to choose a strong password that fits the criteria listed on the page.
Future Messages
All future messages will be sent without needing to re-register. They will appear in the following format, and you can click on the link on the link to open the Secure Message Portal. You will also have access to any previous messages sent through this system.