Telehealth Physical Therapy — bringing the benefits of PT right to you.
We know that the need for PT doesn't stop during times of change and uncertainty. Through one-on-one telehealth sessions with licensed physical therapists, you can now receive quick access to care from the comfort and safety of your own home. We provide diagnosis, consultation, education and care management for your condition just as we would during an in-clinic appointment. Telehealth eliminates travel time and office wait time, and minimizes your time away from work or family.
Through a user-friendly, HIPAA-compliant app, patients connect virtually with their physical therapist. During these visits, your therapist will assess your situation through range-of-motion and function tests, before guiding you through movements, exercises and stretches as part of an individualized care plan created to help you improve your condition. Your therapist will provide a self-care roadmap to get you on the path toward optimal health and pain-free living, helping you to reach your goals and get back to doing the things you love.
What is telehealth?
What to expect from a telehealth visit.
Frequently Asked Questions
We understand that telehealth is a new platform for care, and we have answers to some of the most common questions we hear.
Telehealth PT is an alternative option for care for patients looking to pursue a pathway to recovery from the safety and convenience of their own home and under the direction of a licensed physical therapist.
Patients access their sessions through a HIPAA compliant app on their phone, tablet or computer and connect virtually with a physical therapy provider. Our care team can assess patients' mobility, diagnose musculoskeletal conditions, and provide personal guidance through exercise and movement that leads to recovery and helps every patient achieve their goals.
Typically there is no equipment required for a telehealth PT session. If your therapist wants you to have something such as a tennis ball, a pillow, or canned goods (to add weight to exercises) handy, they will let you know in advance of your appointment.
Your physical therapist can adapt your care plan to fit the space you have available. Most exercises have variations that can be substituted to keep you as comfortable as possible during your virtual session.
Anyone who cannot or prefers not to visit a clinic in person will benefit from the option of accessing care virtually rather than putting off beginning or continuing treatment. Our telehealth sessions offer the same personalized connection and care as our in-clinic appointments do.
Most major insurance providers offer some form of coverage for telehealth services at this time, but plans can vary. We will be happy to verify your coverage for you.
*Please note there are some telehealth restrictions with treating the Medicare population and these will be discussed with patients when scheduling an appointment.
Generally, you will not need a prescription or referral from your doctor to access physical therapy care, in person or through telehealth. Some insurance plans, however, do require a physician's referral or prescription first. We are more than happy to assist in determining if a referral is required or not.
Here are a few tips:
Begin to connect for your appointment five minutes early.
Once logged in and connected to your appointment, ensure that your camera and microphone are on.
Whenever possible, use a stable wifi networks connection rather than a cellular network connection.
Wear comfortable clothes that allow for free movement during your session.
Choose an open area with ample space for your virtual appointment. Ask someone to help you slide small furniture out of the way if needed.
If you cannot connect due to technical issues, call your clinic right away so they can troubleshoot with you, or reschedule if necessary.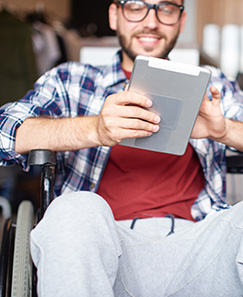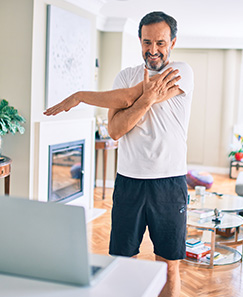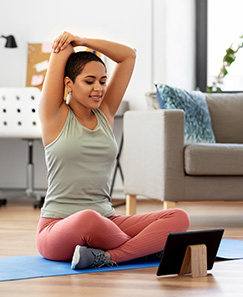 What
they say…
"Wow! I had no idea I was going to be sweating today. It was really nice to be able to connect in this way and continue my exercise progression. This was incredibly valuable."
"This platform was a really fun and valuable way for me to engage in my current care. Thank you for making this available."