Dedicated to empowering our community to be fit and well.
At Therapeutic Associates Physical Therapy at Crescent Village, our team of experienced physical therapists is committed to helping you achieve your goals and reach your optimal level of physical health. We collaborate with each of our patients to create a comprehensive plan of care that is centered around their unique needs.
Your physical therapy partner.
We emphasize hands-on care with practitioners who excel in manual and movement-based therapies to provide effective treatment that will expedite your return to activity through restoring your strength and motion. Our team approach to health and wellness incorporates patient education, so that you understand your condition, know what to expect during recovery and rehabilitation, and recognize how much time you'll need to commit to your journey. 
Our dedication to continuing education keeps our physical therapists on the leading edge of treatment methods for a wide range of conditions and services. Whether you're rehabilitating after an injury, have undergone surgery, or are focused on maintaining and enhancing your movement and performance, our team of experienced physical therapists is here for you when you need us. Our focus is you!
Prioritizing our local communities.
We are proud to support the diverse Eugene communities and to have the opportunity to be a part of our neighbor's healthcare teams. We believe in promoting a healthy and active lifestyle in individuals of all ages and abilities. As rehabilitation, movement, and wellness specialists, we prioritize giving back to our communities via our time and resources through events, sponsorships, and providing educational outreach.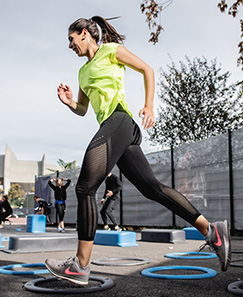 Whatthey say...