Committed to innovative PT and performance training.
Therapeutic Associates Downtown Eugene Physical Therapy is built from a multidisciplinary model of care. As a team of movement specialists, we apply the lessons and strategies from top collegiate and professional athletic settings to our treatment approach in caring for the active Eugene population.
Your trusted therapy partner.
We are committed to providing expert care in all aspects of physical therapy and sports rehabilitation. Our team specializes in orthopedic sports physical therapy, manual therapy, running related performance and post operative care. We are here to rehab the local athlete to the same exacting standard as the professional athlete. Our team of musculoskeletal experts is committed to helping our patients reduce pain, gain mobility and optimize function 
We are proud to be a part of the Eugene community, and we believe that at its core, our clinic is here to serve people of every age and ability in our region. We focus on providing compassionate, expert care that empowers our patients to return to the active enjoyment of all the Pacific Northwest has to offer. We are committed to providing educational outreach in the community to help prevent injury, improve participation, and add to the overall enjoyment of sport and recreation in our region.
Prioritizing our local communities.
We are committed to supporting Eugene in its pursuit of being a healthy, active community. As rehabilitation, movement, and wellness specialists, we believe in giving back via our time and resources through events, sponsorships, and providing educational outreach.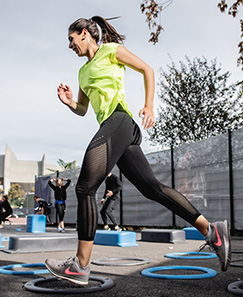 Whatthey say...
My therapist, Aleksey, is fantastic. He developed an exercise plan for me and as I continue to use it,... read moreMy therapist, Aleksey, is fantastic. He developed an exercise plan for me and as I continue to use it, I just keep getting better and better!
Additionally, the rest of the staff are great. They are professional and very happy to help any way they can.
I would easily take my loved ones (mother, sister, father, children) to Therapeutic Associates Downtown to be treated/helped...without hesitation.
I would strongly recommend that anyone referred for physical therapy to work with the Therapeutic Associates Downtown. You will be treated with kindness, respect, and of course, excellent physical therapy.
Kudos to this team and business! An absolute pleasure to work with. read less