Your physical therapy partner.
Therapeutic Associates West Eugene Physical Therapy is physical therapist owned and operated. Our team of experts will work with you to create a unique treatment plan designed around your individual needs and goals. We are committed to empowering you in your journey to optimal healing and maximum recovery and function.
Getting you back to what you love.
Our team emphasizes education, state-of-the-art therapy techniques and hands-on, personalized care in a uniquely supportive environment. We specialize in treating a range of conditions, utilizing a wide variety of physical therapy services. Our focus is to help you recover from injury as quickly and safely as possible, to get you back to doing the things you love while providing you the tools to stay active throughout your lifetime. 
Conveniently located adjacent to Courtsports Athletic Club, near the interchange of W. 11th and Beltline Highway in West Eugene, our clinic offers an encouraging, upbeat atmosphere for patients of all ages and abilities. Through physical therapy you will find your strength, overcome challenges and achieve your goals. Your passion is our priority, and we are committed to ensuring you have everything you need to succeed.
Committed to our community.
We are committed to our local communities and regularly volunteer our time and resources for local charities, clubs, organizations and high schools. Some of the most recent recipients include Habitat for Humanity, Lane County Business Partners, Pacific Northwest Marathon, Tri at the Grove, and Churchill/Willamette/North Eugene/Crow High Schools. As your local musculoskeletal experts, it is our clinic's commitment to help our neighbors maintain healthy and active lifestyles.
Check out our clinic space.
Our clinic was designed to empower every patient to reach their full potential, incorporating private treatment spaces and dedicated exercise areas.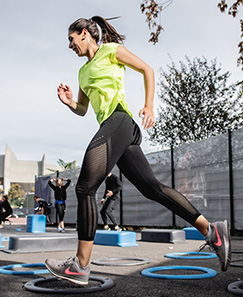 Whatthey say...