Dedicated to holistic, compassionate care.
At Therapeutic Associates Physical Therapy – West Salem, we work together to help heal the whole you, not a part of you. Our experienced physical therapy team is committed to providing every patient with friendly, quick and easy access to excellence in rehabilitative care with a compassionate touch. We strive to help you achieve healthy, pain-free movement that maximizes your performance and enjoyment in work, recreation, and athletic activities.
Your physical therapy partner
We are committed to you and your well-being and take pride in being a member of your healthcare team. Whether you're rehabilitating after an injury, have undergone surgery, or are focused on maintaining and enhancing your movement and performance, we will work collaboratively with you to develop a customized plan of care. Our team specializes in comprehensive care and offers a wide range of services to treat the whole you. We specialize in neck and spine care, balance and gait training, pelvic floor therapy, shoulder, elbow, and wrist injuries, hip and knee injuries, foot and ankle injuries, and much more! Our services include manual therapy, therapeutic exercises, therapeutic modalities, and strength training.
Our physical therapist owned and operated clinic is conveniently located in West Salem's Westgate Shopping Center between Great Harvest Bread and Jamba Juice, off Wallace Road. As rehabilitation, movement, and wellness specialists, our staff is dedicated to being available to answer questions at any time. We have a Spanish speaking therapist available on site. Additionally, we offer retail fitness and healthcare items for sale as well, at very competitive pricing. Come in and see if we can help you get moving. We look forward to helping you pursue all the things you love while also providing you the tools you need to stay active throughout your lifetime.
Supporting our local communities.
It is our desire to give back to those we can within our city. We volunteer, sponsor, and host a variety of community events throughout the Salem-Keizer area, including Relay for Life, Alzheimer's Network, Breast Cancer Awareness projects, Marion-Polk Food Share, Family Building Blocks, YWCA, West Salem High School Athletic groups, West Salem Little League, Bush Park Community Races, and more.We believe in supporting a healthy and active lifestyle in individuals of all ages and abilities.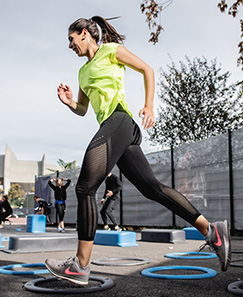 Whatthey say...