Dedicated to individualized patient care.
At Therapeutic Associates Central Point Physical Therapy we are committed to empowering and supporting your rehabilitation journey through individualized care that is focused on your needs. Our experts will work  with you to create a unique treatment plan designed to help you reach your goals.
Your physical therapy partner for life.
Our team emphasizes education, state-of-the-art therapy techniques and hands-on, personalized care in a uniquely supportive environment. We specialize in treating a range of conditions, utilizing a wide variety of physical therapy services. Our focus is to help you recover from injury as quickly and safely as possible, to get you back to doing the things you love while providing you the tools to stay active throughout your lifetime. 
Our therapist owned and operated clinic features an encouraging, friendly environment designed to provide you with the space and tools you need to relieve and prevent pain and to prevent injuries. Our extended office hours provide convenience and accommodation to everyday life and busy schedules. Additionally, we also offer to our patients an extended gym program post-discharge from physical therapy.
Dedicated to our community.
We are dedicated to our community and regularly volunteer our time and money to local charities and organizations. Some of the most recent recipients include the Junior League of Jackson County's Rogue Powerpack program via the Holiday Hustle, The Rogue River Greenway via Ride the Rogue and the Down Syndrome Association of Southern Oregon. We value the partnership we share with our local community through sponsorships and educational forums. As your local experts in musculoskeletal health, it is our commitment to help our neighbors maintain healthy and active lifestyles.
We look forward to helping you!
Our clinic was designed to empower every patient to reach their full potential, incorporating private treatment spaces and dedicated exercise areas.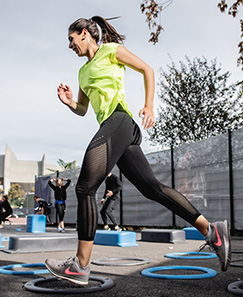 Whatthey say...