Personalized physical therapy care.
At Therapeutic Associates Grants Pass Physical Therapy we are committed to providing quality care through exercise and manual therapy. We use patient education as our primary tool to promote body and movement awareness and to assist our patients in learning how to help themselves.
Your partner for rehabilitation and performance training.
Conveniently located at the corner of Ramsey and Nebraska Ave in the Doctors Court building, our locally owned and operated clinic features personalized physical therapy in a friendly, upbeat and encouraging environment. We provide physical therapy and sports medicine services for patients of all ages and abilities, including manual therapy, therapeutic exercise, therapeutic modalities, cardiovascular conditioning, and strength training. Our highly trained staff is passionate about providing you with an experience that gets the results you want.
Our clinic has a large gym, private treatment rooms, and a therapeutic warm water pool. A variety of personal and professional backgrounds, combined with our state-of-the-art facility, enable us to effectively treat all ages and types of patients, ranging from infants to the elderly, from athletes to chronic pain cases. Whether you're recovering after an injury, rehabilitating after surgery, managing a chronic condition or are seeking to improve your balance, strength and flexibility, our team is here for you.
Dedicated to our community.
It is part of our culture to give back to our communities. We actively volunteer our time at local community events, service clubs, and high schools. We value the partnership we share with our community and provide sponsorships for local organizations including Little League Baseball, ASA softball, GPHS Project Graduation, GPHS Booster Club, Lady Caver Basketball and the Boatnik Freedom Run, to name a few. We serve as a site for multiple Grants Pass High School career class students to observe and learn about the profession of physical therapy. We have also provided pre-season conditioning for skiing/snowboarding, softball/baseball and free ACL screens to female athletes to reduce knee injuries in female high school sports.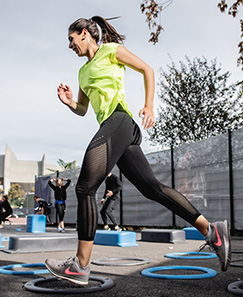 Whatthey say...