Dedicated to getting you better faster.
At Therapeutic Associates Central Physical Therapy we are committed to ensuring our patients receive quality care with their physical therapy team in a fun, welcoming, and encouraging environment. We utilize advanced orthopaedic manual therapy techniques to help reduce each patient's length of care and maximize their results.
Your physical therapy partner for life.
Our team of musculoskeletal experts will work  with you to create a unique, comprehensive treatment plan designed around your individual needs and goals. We are committed to empowering you in your journey to optimal healing and maximum recovery and function. We specialize in treating a range of conditions, utilizing a wide variety of physical therapy services. 
Our clinic is therapist owned and operated and designed to provide you with the space and tools you need to optimize your musculoskeletal system and conquer mobility and motion challenges so you can live a pain-free, active life doing all the things you love to do. A focus on continuing education ensures that each of our therapists are on the leading edge of treatment methods and clinical excellence.
Dedicated to our community.
Beyond the clinic, our hearts are driven to give back and serve through volunteering our time in the local community. We are proud to be a part of our local community and to have the opportunity to give back to its residents and guests through sponsorship of events, supporting the local schools and their athletic teams, providing educational outreach and as a part of their healthcare teams.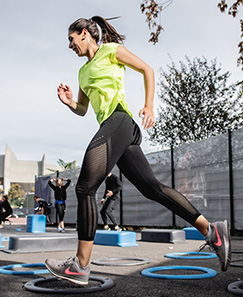 Whatthey say...