Enriching daily life by optimizing movement.
At Therapeutic Associates Fairwood Physical Therapy, our team of physical therapists is dedicated to helping patients achieve healthy, pain-free movement that maximizes performance and enjoyment in work, recreational, and athletic activities. We will work  with you to create a unique treatment plan designed around your individual needs and goals.
Your choice for physical therapy.
Centrally located in the Fairwood community of Renton, our clinic is physical therapist owned and operated. Our focus is to help you recover from injury as quickly and safely as possible to get you back to the things you love. We promote healing by reducing pain and inflammation, increasing range of motion, flexibility and strength, and improving posture, body awareness, and body mechanics.
We utilize clinical experience and leading-edge rehabilitation techniques to provide you with the most effective, efficient care in an environment that is centered on you. From initial diagnosis through recovery, we will teach you how to take control of your body and its healing process. We use hands-on manual therapy combined with therapeutic exercise and education to help you reach your goals.
We are committed to supporting Fairwood as a healthy, active community. As rehabilitation, movement, and wellness specialists, we believe in giving back via our time and resources. We are proud to support local organizations to ensure the prevention of injuries and to foster, support, and promote an active lifestyle to everyone.
Check out our clinic space.
Our clinic was designed to empower every patient to reach their full potential, incorporating private treatment spaces and dedicated exercise areas.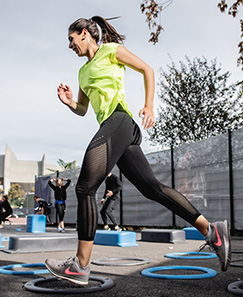 Whatthey say...
Kyle is a terrific PT. Both knowledgeable and professional. Went to Kyle for on going chronic back problems. Stenosis and... read moreKyle is a terrific PT. Both knowledgeable and professional. Went to Kyle for on going chronic back problems. Stenosis and disc issues. With the routine he's designed for me I'm getting much relief. Thank you Kyle! Can highly recommend. read less
I will definitely recommend Kyle at Therapeutic Associates Fairwood to my friends. All of the staff is friendly and... read moreI will definitely recommend Kyle at Therapeutic Associates Fairwood to my friends. All of the staff is friendly and helpful starting with the receptionist as you enter the door. Kyle has gone the extra mile in making me feel comfortable and helped me to improve my strength and overall physical health. read less
Therapeutic Associates Fairwood Physical Therapy has a great atmosphere, the staff is all very friendly and professional and the physical... read moreTherapeutic Associates Fairwood Physical Therapy has a great atmosphere, the staff is all very friendly and professional and the physical therapists really know their stuff. This is my 2nd time using this Fairwood branch and they really care about your health and want to make you better! I highly recommend them if you are looking for a good physical therapy experience. read less