Empowering Kirkland physical therapy patients on the path to healing.
At Therapeutic Associates Juanita Physical Therapy in Kirkland, our team of physical therapists is committed to treating each of our patients with compassion, empathy, and integrity. We are committed to creating custom treatment plans designed around each individual's personal situation. Our focus is on pain resolution and rehabilitation, while also working with you to improve overall health and wellness for your lifetime.
Your Kirkland physical therapy partner.
We take pride in maintaining a warm and inviting atmosphere where patients of all ages and abilities feel inspired and supported. Our Juanita clinic is locally owned and operated and designed to provide you the space and tools you need to recover and meet your goals. Our physical therapists are compassionately committed to helping you reach your optimal physical health.
We strive to remain at the forefront of healthcare education and movement science research, so those we treat receive the most advanced, dynamic care available. Whether you're rehabilitating after an injury, have undergone surgery, or are focused on maintaining and enhancing your movement and performance, our team of experienced physical therapists is here for you.
Prioritizing our community.
We are proud to be a part of the Kirkland region and to have the opportunity to give back to our local communities including Bellevue, Kirkland, Totem Lake, Redmond and beyond. As rehabilitation, movement, and wellness specialists, we believe in giving back via our time and resources to foster, support, and promote an active lifestyle to everyone.
Check out our clinic space.
Our clinic was designed to empower every patient to reach their full potential, incorporating private treatment spaces and dedicated exercise areas.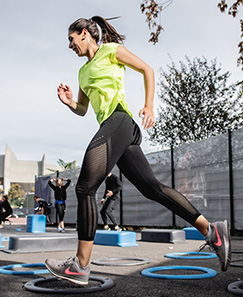 Whatthey say...