Enriching daily life by optimizing movement.
At Therapeutic Associates Monroe Physical Therapy, we design our care plans to optimize our patients' performance and function through movement, education and cost-efficient rehabilitation services. Our clinic is locally owned and operated and features a team of physical therapists that specializes in orthopedic physical therapy and is skilled in treating a variety of conditions for patients of all ages throughout Snohomish County. 
Your choice for physical therapy.
Conveniently located on Fryelands Boulevard across from scenic Lake Tye, our locally owned and operated clinic is easily accessible from Snohomish and Roosevelt to the north, Woods Creek and Sultan to the east, as well as High Rock and Monroe to the south. We feature ample parking, including handicap spaces. Our facility offers private treatment rooms, a variety of strength and conditioning equipment, a large gym area, and a knowledgeable, friendly staff with a diverse range of experience to help get you on the road to recovery.
As highly trained healthcare professionals, our PTs design individualized plans for every patient, whether they're treating an injury, addressing pain, managing a chronic disease or illness or focusing on movement function and performance. Our focus on continuing education ensures that each of our physical therapists is on the leading edge of treatment methods and clinical excellence. Our priority is to provide you with a supportive and friendly environment while meeting your health care needs and getting you back to the things you love.
Prioritizing our local communities.
We are proud to be a part of the dynamic Monroe community and to have the opportunity to be a part of our neighbor's healthcare teams. We believe in promoting a healthy and active lifestyle throughout the lifespan. As rehabilitation, movement, and wellness specialists, we prioritize community involvement and regularly give back via our time and resources through sponsorships and educational forums. Some of our recent activities include volunteer hours and financial support to the YMCA Healthy Kids Day, Monroe Night Out, Cycle the Wave foundation, Washington State Trail restoration, and sponsorship of local youth athletic teams and programs.
Check out our clinic space.
Our clinic was designed to empower every patient to reach their full potential, incorporating private treatment spaces and dedicated exercise areas.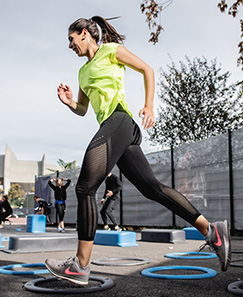 Whatthey say...