Dedicated to getting you better faster.
At Therapeutic Associates Mount Spokane Physical Therapy, our team is committed to providing individualized treatments that include functional exercise programs combined with hands-on therapy techniques. We specialize in treating a range of conditions in patients of all ages and strive to prevent injuries with our individualized programs.
Helping you achieve your best performance in the shortest amount of time.
Our physical therapist owned and operated clinic is conveniently located in North Spokane between Highway 2 and Market Road, at the corner of Highway 206, one mile west of Mt. Spokane High School. We will go above and beyond your expectations from the moment you enter our clinic. Our commitment is to treat you with the utmost respect through all aspects of your rehabilitation journey.
Our commitment to continuing education keeps our physical therapists on the leading edge of treatment methods for a wide range of conditions and services. Whether you're recovering from an injury, rehabilitating after surgery, managing a chronic condition or seeking to improve your balance, strength and flexibility, we are dedicated to your goals.
Dedicated to our local community.
At Therapeutic Associates, it is part of our culture to give back to our communities. We are proud to be a part of the vibrant Spokane region and to have the opportunity to give back to its residents and guests through sponsorship of events, supporting the local schools and their athletic teams, providing educational outreach and as a part of their healthcare teams.
Check out our clinic space.
Our clinic was designed to empower every patient to reach their full potential, incorporating private treatment spaces and dedicated exercise areas.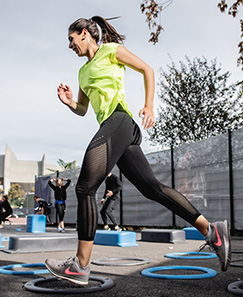 Whatthey say...