Committed to lifelong wellness.
Our experts are passionate about empowering patients through evidence-based therapy, individualized treatment plans, and unmatched support throughout their journey. We are here to help you get back to your happiest, healthiest lifestyle. Whether you're recovering after an injury, rehabilitating after surgery, managing a chronic condition or are seeking to improve your balance, strength and flexibility, we work with you to develop a customized plan of care. Our goal is to empower you to minimize pain, maximize function and achieve long-term relief.
Our physical therapist owned and operated clinic is conveniently located on Jadwin Avenue just south of Kadlec's Richland Primary Care Clinic. We are committed to maintaining a supportive, friendly environment where patients of all ages and abilities receive the most comprehensive, high quality physical therapy care available. We feature innovative rehabilitation services including evidence-based manual therapy, therapeutic exercise and conditioning, patient education and a comprehensive, individualized approach to care.
We are dedicated to doing the right thing for each individual patient's needs while having fun in the process. Working with a PT empowers people of all ages and abilities to be active participants in improving their health and well being. Our goal is to design individualized plans for every patient, while working to educate and empower every patient to be involved in the health of their bodies. We will strive to progress each patient to an individualized home program that can be done in any setting.
Giving back to our local community.
Our involvement in community programs, sponsorships and charities is an important aspect of our company's core values as well as each employee's desire to give back to the Tri Cities, where some of us grew up and we all proudly call home.
Check out our clinic space.
Our clinic was designed to empower every patient to reach their full potential, incorporating private treatment spaces and dedicated exercise areas.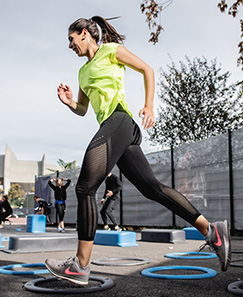 Whatthey say...