Premier physical therapy in SE Boise, Idaho.
Whether you are an avid hiker whose nagging knee or ankle pain is keeping you from adventuring in the Boise foothills as often as you'd like, a grandparent whose shoulder impingement stops you from being able to pick up your grandkids, or an office worker who has regular, debilitating headaches, the experts at Therapeutic Associates Physical Therapy – SE Boise have the education and experience to help you overcome your issues.   
"It's a misconception that to benefit from physical therapy you have to have a big injury – I sprained my ankle playing basketball, or I had a big surgery that's causing me a lot of pain. But really, PT is for so much more than people realize,"  Shelby Hyde, Physical Therapist and Practice Manager at SE Boise PT emphasized. "Maybe you just don't feel strong enough to do the things you want to do around the house, or that you can do your yardwork, but you pay for it for days afterward because your body hurts or is so worn out from it. These are all things PT can help you with." 
Whatever it is that brings you to physical therapy, you can be confident that your treatment plan will be designed specifically for you, taking into account your history and your personal goals.
"A lot of people have had the experience in the medical field where they show up for an appointment and the provider they are seeing just kind of tells them what is going on and then tells them what they're going to do for them," Shelby reflected. "But here, we don't have the catchall for everything. We are going to make this an individualized treatment plan."
That treatment plan, he added, is based not just on what hurts or is bothering you, but on what you care about, what matters to you, and what your goals are.
"It's going to feel more like we're trying to get to know you as a person and not just as a patient."
Whether you are a first-time patient of physical therapy or you've been through episodes of care in the past, from your very first visit, the clinic team at Therapeutic Associates Physical Therapy – SE Boise will take the time to ensure you are feeling welcome, comfortable, and confident that you are going to be supported throughout your journey. That starts with understanding your insurance coverage and knowing what to expect during your appointments and concludes with knowing your body and understanding how to take control of your own health.
To prioritize patients' comfort, the initial assessment is done within one of the clinic's many private treatment rooms.
"As a physical therapist, I want to know what you're experiencing, how long it's been going on, and get a really good idea of where's it coming from or what might be the source of it," explained physical therapist Katrina Tooman. "We're going to talk a lot at that first visit and then we'll do some objective tests, some measurements – range of motion, strength – and movement analysis."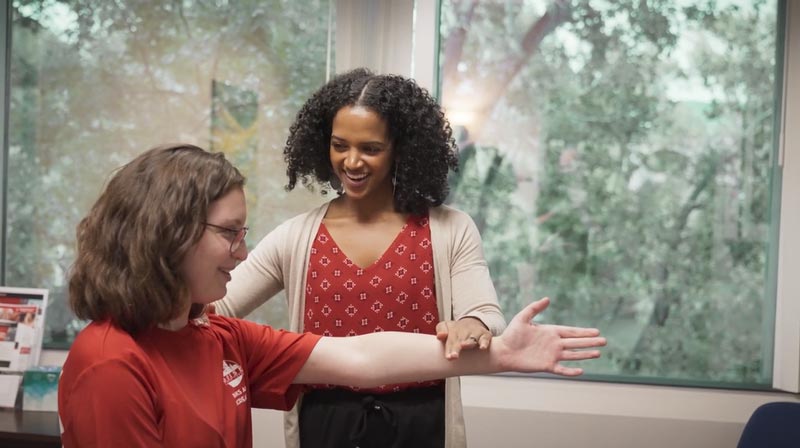 From there, Katrina continued, the focus is on what a patient needs and what they are hoping to get out of physical therapy.
"Patient goals are going to be really helpful because then we can cater our treatment around that," Katrina explained. "So, let's say I have someone who really wants to get back to archery. The exercises and movements we incorporate into their treatment are going to be tailored to help them be able to pull a bow."
Designing programs specific to people's personal goals is one of the things Katrina said she enjoys every day. For PTs, that aspect of care provides an opportunity to tap into not just their education and clinical experience, but also their creative side. And when they need a little extra inspiration, they rely on their colleagues – other physical therapists, as well as physical therapy assistants and aides.
"I tell my patients, 'I might not know all the answers, but I know people who might know the answer.' And together it is better," Katrina said.
Utilizing a care team model is a valuable approach to patient treatment at Therapeutic Associates Physical Therapy, and the large team at the SE Boise clinic embodies this value daily.
"With us, you're not just going to have one physical therapist's set of eyes. We value multiple sets of eyes and multiple knowledge bases," Shelby explained.
Additionally, as a patient, you won't be left to work through your exercises and movements alone. Throughout your journey, at each appointment after working with your PT through reassessment — which includes checking in about how things have gone since your last appointment, any objective testing needed to determine progress, hands-on manual therapy, and determining if any changes should be made to your program — you'll shift to the care of a PT assistant or aide.
"Our PT assistants and our aides are going to take you through the movements and exercises to really make sure you're doing them correctly, that you feel good and feel confident so that when you go home you know exactly what you're doing, you've had the training and been shown by a professional," Shelby said.
Having that guidance provided by an expert with an exercise science background is key, particularly as you improve and need to build onto your program to continue progress toward your goals, but also if something proves too challenging and you need to be shown a modification.
Another important aspect of patient care at SE Boise PT is patient education. It is important to the care team that every patient understands what is going on with their body, whether they have had surgery, suffered an injury, are battling nagging pain or are working through another condition. Then, as musculoskeletal experts, physical therapists are committed to educating patients about how their treatment plan is addressing their specific situation and empowering them to continue to improve and prevent recurrences.
"When they are done here, I really want patients to go home feeling confident that they can take care of themselves and understand the things they can do a little bit differently to help their mechanics so they can continue the positive momentum," Shelby said. "I want them to feel confident that if a little thing does pop up, they know how to fix it themselves, but also that we're here. We are their physical therapist and we're not going anywhere."
"My hope is that there is more joy, more confidence in being able to move again," Katrina added. "But also, a sense of autonomy and a sense of pride for what they were able to overcome."
Get moving with physical therapy.
At Therapeutic Associates Physical Therapy – SE Boise, we are committed to providing effective, efficient, and compassionate care to help patients of all ages and abilities live a pain-free, active life.