At Therapeutic Associates Physical Therapy – Eagle, our goal is to help each patient reach their goals efficiently and effectively through individualized and compassionate treatment in an upbeat, fun and caring environment. Our dynamic Eagle physical therapy team works to ensure you reach your optimal level of physical health.
Collaborative care at Eagle physical therapy.
Our treatment philosophy includes using evidence based manual therapy and strength and conditioning principles in order to achieve the highest outcomes. Whether you're recovering after an injury, rehabilitating after surgery, managing a chronic condition or are seeking to improve your balance, strength and flexibility, we work with you to develop a customized plan of care. Private treatment rooms as well as a large gym area with the latest in rehabilitative equipment give our PTs the flexibility to work with you through each level of the rehabilitation process.
Our clinic is physical therapist owned and operated, and features unparalleled customer service. We focus on education, manual therapy and exercise techniques while collaborating with you on your journey to optimal healing and maximum recovery and function. An emphasis on continuing education ensures that each of our therapists is on the leading edge of treatment methods and clinical excellence and is ready to guide you on your healing journey. Our goal is to empower you to minimize pain, maximize function and achieve long-term relief.
We are committed to supporting Eagle and other communities throughout Boise and the treasure valley area as a healthy, active community. As rehabilitation, movement, and wellness specialists, we believe in giving back via our time and resources, providing Eagle physical therapy care that empowers individuals in their health and wellness goals. We are proud to support local organizations to ensure the prevention of injuries and to foster, support, and promote an active lifestyle to everyone.
Check out our clinic space.
Our clinic was designed with one purpose in mind: providing all of our athletes and patients with an elite training facility where they can recover faster and reach their maximum potential.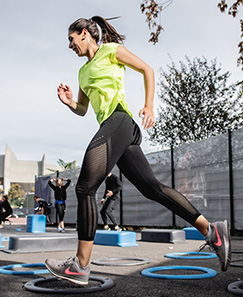 Whatthey say...