Empowering Meridian physical therapy patients to achieve their goals.
At Therapeutic Associates Physical Therapy – Meridian, we are committed to working with you to optimize your experience on your road to recovery and maximum healing. We emphasize education, cutting-edge therapy techniques and hands-on, individualized care in a uniquely supportive environment to get you to goals.
Your Meridian physical therapy partner.
Locally owned and operated, we are committed to maintaining a supportive, friendly environment where patients of all ages and abilities receive the most comprehensive, high quality physical therapy care available. We prioritize maintaining an exceptional staff with a diverse range of experience and focus on offering a wide range of multidisciplinary treatments. Whether you're recovering after an injury, rehabilitating after surgery, managing a chronic condition or are seeking to improve your balance, strength and flexibility, we work with you to develop a customized plan of care. 
An emphasis on continuing education ensures that each of our therapists is on the leading edge of treatment methods and clinical excellence and is ready to guide you on your healing journey. Our goal is to empower you to minimize pain, maximize function and achieve long-term relief. Located on East Overland Road in the Silverstone business complex. We are one block east of Eagle Road and across the street from Zamzow's. Parking is located behind the clinic, off of East Overland Road. You will have to turn on Silverstone Way or Jade Ave to reach our parking lot.
We are committed to supporting Meridian as a healthy, active community. As rehabilitation, movement, and wellness specialists, we believe in giving back via our time and resources. We are proud to support local organizations to ensure the prevention of injuries and to foster, support, and promote an active lifestyle to everyone.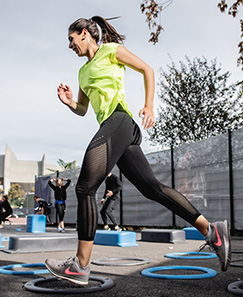 Whatthey say...