Comprehensive care designed to empower you to reach your goals.
At Therapeutic Associates Bend Physical Therapy, we are committed to working with you to optimize your experience on your road to recovery and maximum healing. We emphasize education, cutting-edge therapy techniques and hands-on, individualized care in a uniquely supportive environment.
Your partner for rehabilitation and performance training.
A premier orthopedic and sports medicine facility, our locally owned and operated clinic is conveniently located within The Center facility on the St. Charles Bend campus. We prioritize maintaining an exceptional staff with a diverse range of experience including: spine care; shoulder, knee, foot and ankle injury treatment; total joint replacement rehabilitation; balance issues; pelvic health; pediatric orthopedics, and hand therapy. Our goal is to provide the most comprehensive, high quality physical therapy care available and to partner with you on your journey to health and wellness.
We proudly feature the Functional Orthopedic Research Center of Excellence (FORCE) Lab within our large clinic thanks to a partnership with Oregon State University—Cascades, The Center Orthopedic & Neurosurgical Care & Research, and The Center Foundation. The FORCE Lab aligns with the interests and needs of Central Oregon's active and athletic communities, providing cutting-edge research and intervention strategies for injuries while also offering movement analysis services and sport-specific programs.
Prioritizing our local communities.
We are committed to our local communities and regularly donate funding and volunteer our time and resources for local charities and organizations. Some of the most recent recipients include the Assistance League of Bend, CASA, Grandma's House, Boys and Girls Club, the Center Foundation, the Arthritis Foundation, the Kid's Center, the Environmental Center, Bend High School, Mountain View High School, and Summit High School. We believe in supporting a healthy and active lifestyle in individuals of all ages and abilities.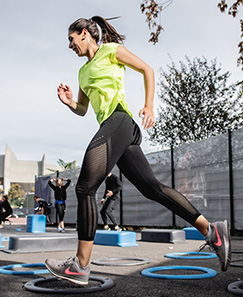 Whatthey say...