Dedicated to your health and wellness.
At Therapeutic Associates La Pine Physical Therapy, we are passionate about helping our patients feel better faster. We work to ensure your journey back to your normal self and to all the activities you love is a positive, productive and powerful experience.
Your physical therapy partner.
Our team is committed to providing each of our patients with a comprehensive approach to care that is individualized to meet personal goals. We focus on evidence-based manual therapy along with exercise and strength training to foster expedited recovery, rehabilitation and injury prevention. Our goal is to empower you to minimize pain, maximize function and achieve long-term relief while partnering with you in your pursuit of optimal health and wellness.
Our locally owned and operated clinic features a warm water pool for aquatic therapy, a uniquely supportive option to help you on your path to healing. Whether you're rehabilitating after an injury, have undergone surgery, or are focused on maintaining and enhancing your movement and performance, our team of experienced physical therapists is here for you. Our highly trained, compassionate staff will provide you with everything you need to meet your health goals.
Supporting the La Pine community.
We are proud to be a part of the growing La Pine community and to have the opportunity to give back to its residents. As rehabilitation, movement, and wellness specialists, we believe in giving back via our time and resources to foster, support, and promote an active lifestyle to everyone.
Check out our clinic space.
Our clinic was designed to empower every patient to reach their full potential, incorporating private treatment spaces and dedicated exercise areas.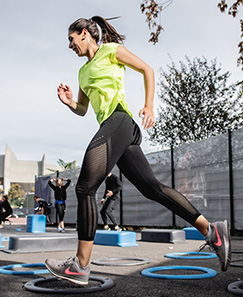 Whatthey say...