Prioritizing patient care.
At Therapeutic Associates Happy Valley Physical Therapy, we are committed to ensuring our patients receive the highest quality of care by working to develop each of our providers into elite movement specialists with the skill, determination and creativity to help people excel at life.
Your physical therapy partner.
Our physical therapy team works with each patient with unsurpassed determination and creativity to deliver the best patient experience. We focus on fostering collaborative relationships with our patients, working to create customized treatment plans designed around individual circumstances and goals. As doctors of physical therapy we strive to be the best and work toward expertise by pursuing advanced training and education, by embracing sound research and innovation and by continuously practicing and honing our skills.
Our providers are inspired to be elite movement specialists, believing that through our expertise we can empower you on your journey to optimal healing and maximum recovery and function. Your passion is our priority, and we are committed to ensuring you have everything you need to succeed. At our physical therapist owned and operated clinic, located on the NW corner of Sunnyside Rd and SE Misty Dr (aka SE 147th Ave) in the building just east of Starbucks, we specialize in treating a range of conditions, utilizing a wide variety of physical therapy services. We are thrilled to help you excel at life.
Actively engaged with our local community.
As residents of Happy Valley ourselves, it is our personal commitment to be your local experts in musculoskeletal health. Outside of the clinic, we strive to give back to our communities through free education, free injury screens, and the support and sponsorship of local events.
Check out our clinic space.
Our clinic was designed to empower every patient to reach their full potential, incorporating private treatment spaces and dedicated exercise areas.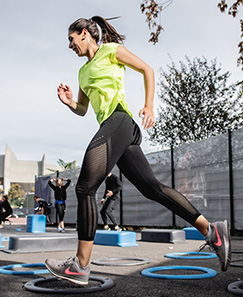 Whatthey say...