Helping you navigate your way to recovery.
At Therapeutic Associates Physical Therapy – South Salem, our number one objective is to help you achieve your goals by getting to the root of what is causing the problem. We prioritize open communication and education, to ensure that we hear and understand your story, and that you not only learn about your diagnosis but also understand what to do to expedite healing and prevent reoccurrence of the same condition. We specialize in treating difficult and chronic cases and are committed to your recovery.
As highly trained healthcare professionals, our physical therapists design individualized plans for every patient, whether they're treating an injury, addressing pain, managing a chronic disease or illness or focusing on movement function and performance. We take a whole-body approach to promote healing through reducing pain and inflammation, increasing range of motion and strength, and improving body awareness and body mechanics. Our focus is on improving the quality of our patients' lives through providing unmatched care and clinical excellence while building lifelong relationships. 
Our commitment to continuing education keeps our physical therapists on the leading edge of treatment methods for a wide range of conditions and services. We believe that this higher level of post graduate work better prepares physical therapists to handle more complicated cases and facilitates a faster recovery. Our locally-owned, state-of-the-art clinic boasts large, private, peaceful treatment rooms and a well-equipped gym with exceptional views. We prioritize maintaining a healing atmosphere where together we will work to ensure you achieve the best possible outcome.
Committed to our local communities.
We are proud to be a part of the diverse Salem region and to have the opportunity to be a part of our communities' healthcare teams. We believe in promoting a healthy and active lifestyle in individuals of all ages and abilities. As rehabilitation, movement, and wellness specialists, we prioritize community involvement, which we believe enhances patient experiences and outcomes.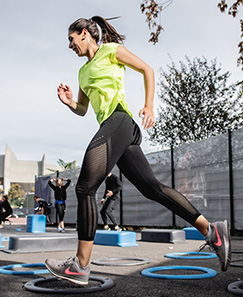 Whatthey say...
We at Therapeutic Associates South Salem strive to help the citizens of our community live healthier and more active lifestyles by:
Mobility Monday is a video series hosted by Physical Therapists Jeff Blanchard and Bart Hawkinson. Each week, Jeff and Bart share their knowledge about the musculoskeletal system and injury prevention. Each topic is designed to discuss conditions that people often face, exercises to alleviate pain, and warning signs for when to get help.