Committed to providing quality physical therapy to Kirkland, Redmond and Rose Hill communities.
At Therapeutic Associates Physical Therapy – Bridle Trails, our passion is to positively impact our community through compassion, caring and education. We focus on helping every patient we treat heal quickly and safely, and to empower them with the knowledge, understanding and inspiration they need to stay active and healthy.
Your lifetime physical therapy partner.
Our team emphasizes patient education, state-of-the-art therapy techniques and hands-on, personalized care. We are committed to working with you to provide an understanding of what it takes to maintain a healthy body that can meet your goals. We specialize in orthopedic physical therapy, sports rehabilitation, and restoring function and performance. We focus on providing a comprehensive musculoskeletal evaluation and use therapeutic interventions to restore optimal movement patterns in our patients. Our team will provide a self-care roadmap to get you on the path to optimal health and pain-free living.
We are a locally owned and operated physical therapy practice conveniently located in the Bridle Trails neighborhood, central to both the Kirkland and Redmond communities. Our focus on continuing education ensures that each of our physical therapists is on the leading edge of treatment methods and clinical excellence. Whether you're recovering after an injury, rehabilitating after surgery, managing a chronic condition or are seeking to improve your balance, strength and flexibility, we work with you to develop a customized plan of care. Our goal is to empower you to minimize pain, maximize function and achieve long-term relief.
Focused on comprehensive, compassionate care.
We are proud to be a part of our diverse local communities and to have the opportunity to be a part of our neighbor's healthcare teams.  As rehabilitation, movement, and wellness specialists, we prioritize community involvement and believe in promoting a healthy and active lifestyle in individuals of all ages and abilities.
Check out our clinic space.
Our clinic was designed to empower every patient to reach their full potential, incorporating private treatment spaces and dedicated exercise areas.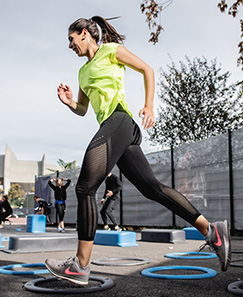 Whatthey say...