Focused on comprehensive, compassionate care.
At Therapeutic Associates Queen Anne Physical Therapy, we are committed to working with you and being an integral part of your healthcare team. Our team of experienced physical therapists are skilled in treating a range of conditions, utilizing a wide variety of state-of-the-art therapy techniques and hands-on, personalized care.
Your lifetime physical therapy partner.
Our physical therapist owned and operated clinic is located in lower Queen Anne in the heart of the Uptown neighborhood. We are proud to provide the surrounding communities of Queen Anne, Uptown, Belltown, South Lake Union and Magnolia with a full complement of physical therapy services. Our primary focus is to provide you with a supportive and friendly environment while meeting your health care needs. 
Our clinic philosophy focuses on individualized manual therapy techniques combined with specific activities to improve your overall function and quality of life. By utilizing clinical experience, evidence-based medicine, and leading edge rehabilitation techniques, we provide you with effective and efficient care in an environment that focuses on you. We are here when you need us and are honored to help you optimize your health and wellness goals.
Prioritizing our local communities.
We are proud to be a part of our diverse local communities and to have the opportunity to be a part of our neighbor's healthcare teams.  As your local experts in musculoskeletal health, we prioritize community involvement and strive to give back via our time and resources. We believe in promoting a healthy and active lifestyle in individuals of all ages and abilities.
Check out our clinic space.
Our clinic was designed to empower every patient to reach their full potential, incorporating private treatment spaces and dedicated exercise areas.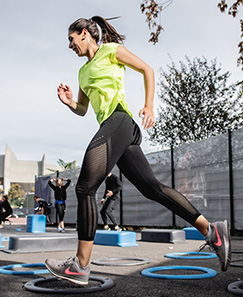 Whatthey say...