Empowering patients through care and education.
At Therapeutic Associates Liberty Lake Physical Therapy, our highly trained team combines manual therapy with dynamic exercise and functional activities to maximize function and reach patients' goals. We provide expert care in all orthopaedic and sports conditions, with a focus on prevention. Our background in manual therapy and movement integration focuses on the cause, not just the symptoms.
Focused on individualized treatment.
From initial diagnosis through recovery, we will begin to teach you how to take control of your body and its healing process. All of our new patients receive tools (biomechanical education and home exercise programs) to start their recovery process on their first day. Our therapists will work with you to develop an individualized treatment program to get you better, faster!
Through physical therapy you will find your strength, overcome challenges and achieve your goals. We continually work to enhance our team's ability to meet the needs of every patient by supporting each providers' pursuit of advanced training and specialty certifications and lifelong learning. Our goal is to provide the most comprehensive, high quality physical therapy care available.
We value the partnership we share with our local communities and strive to give back through sponsorships and educational forums. As your local experts in musculoskeletal health, it is our commitment to help our neighbors maintain healthy and active lifestyles.
Check out our clinic space.
Our clinic was designed to empower every patient to reach their full potential, incorporating private treatment spaces and dedicated exercise areas.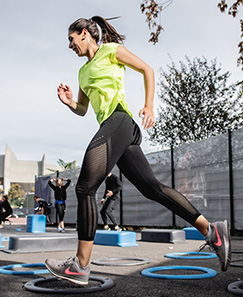 Whatthey say...