A holistic, hands-on approach to care.
Our team continually appreciates the opportunity to assist a wide variety of individuals of all ages and abilities with various conditions, allowing us to apply an evidence-based, holistic approach to care with an emphasis on advanced "hands on" manual therapy and neuromuscular re-education techniques. This comprehensive approach allows us to get to the root cause of your condition, and help you feel better faster.
At Therapeutic Associates Spokane Physical Therapy at Riverpoint, our highly trained team specializes in cutting-edge orthopedic physical therapy for all types of musculoskeletal concerns and conditions. Conveniently located with onsite parking just east of downtown on Spokane Falls Boulevard across from the WSU/EWU medical campus at Riverpoint, our compassionate team is here to help you achieve your goals. We are passionate about providing the most effective care to our patients, and are committed to seeking out the latest evidence-based techniques and most up-to-date training to stay at the leading edge of the physical therapy profession.
Recognized regionally as a center of excellence in physical therapy, our goal is to empower you to minimize pain, maximize function and achieve long-term relief. Our experts will work with you to create a unique treatment plan designed around your individual needs and goals. We are committed to empowering you on your journey to optimal healing and maximum recovery and function. Whether you're recovering after an injury, rehabilitating after surgery, managing a chronic condition or are seeking to improve your movement and performance, our team of experienced physical therapists is here for you when you need us. Our focus is you!
Actively investing in our local community.
Our staff is actively involved in promoting health and wellness in our community. We regularly volunteer our time and support for community and sporting events. Additionally, we provide educational opportunities for the public on musculoskeletal topics, and are advancing physical therapy through research, and the education of health care providers and students in the medical and fitness professions through observation/volunteer opportunities, clinical internships and teaching relationships with several universities and colleges in the region.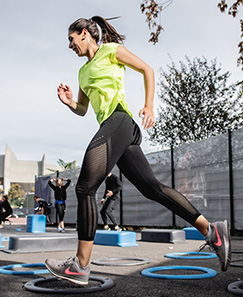 Whatthey say...
I became a patient of Therapeutic Associates in June of 2021. I had been struggling for years to find... read moreI became a patient of Therapeutic Associates in June of 2021. I had been struggling for years to find answers as to why I was dealing with chronic nerve pain and anxiety, muscle weakness and stiffness throughout my body, along with involuntary spasms in my neck, vertebrae that wouldn't hold, and digestive issues. I was newly in remission from late stage Lyme disease but continued to have lingering symptoms.

In reviewing my medical history, I recalled an incident I had as a child where I was accidentally hit in the head by a wooden baseball bat. Most of my structural issues didn't begin to become a problem until I had rubber bands attached to my braces to have my jaw realigned. At the time I was in cosmetology school. One day I was in so much pain that I couldn't put my arms up to do my client's hair. Since this is not a normal response to orthodontia and my current PT, Bill Olsen has uncovered that the side of my head that I was hit on with the bat is what seems to send much of the cascading pain signals to other areas of my body, we now believe the bat accident likely created an underlying problem that the orthodontics exacerbated. In the past, traditional PT didn't fix anything for me. It actually made my pain worse, as did chiropractic adjustments, so I regularly saw body workers who did muscle balancing. My treatments never held for long. About 10 years ago I found out about Atlas Orthogonal. While my upper cervical adjustments eased symptoms, I still wasn't holding adjustments for long. I came across information on Bill and had a strong sense from other reviews that if anyone could help me, it would be him and his team.

My treatments began with seeing Caleb Dotson. It took two appointments for him to chart my entire medical history. I remembering him telling me that my life was about to change. It gave me so much hope to be truly heard, understood and cared for. Every one of my interactions with the team has been so helpful and encouraging.

I have been taught how to become a nose breather instead of mouth breather which has increased my nitric oxide levels. I no longer belly breathe or chest breathe. We reactivated my right rib cage which hadn't been moving. It was locked up with my liver and gall bladder shoved up under it which explained the pain that I have been having in my liver area for a few years. I hadn't realized that my belly breathing was creating an imbalance of muscles in my lower back. Anytime I would get stressed I was shifting to upper chest breathing which engages the Vegas nerve and creates a self reinforcing pattern of stress as the Vegas nerve activates fight or flight. As a result my heart rate was fast, my digestion slowed, and I couldn't think straight. I lived in a state of chronic anxiety, then burn out, all the while not realizing that I was the one causing it. I now check my breathing before mentally processing stressful thoughts and have been able to nearly eliminate my anxiety attacks.

Most of the work the team does is hands on. So much of my pain was actually nerve lines that had come up through my fascia. They needed to be pushed back through so that my muscles would unlock. An eye opening part of the process of healing is that once they figure out your general muscle patterns of weakness, they can show you how to turn off your pain by teaching you how to give slack in your fascia. They give you PT stretches and strengthening exercises to rebalance your muscles. Most of them have multiple components to them which work in tandem that make each movement more affective. One day in particular, Bill showed me how I could turn my pain off in about 10 seconds and traced my pain from a nerve in my neck all the way down to my right calf muscle. I have been amazed how much control I now have over my pain. I have been empowered to take care of myself in a way that I never believed was possible. It does take work but it is worth it!!

If you are having chronic pain and nothing else has worked or is a temporary fix, I cannot recommend Bill and his team enough. read less
I highly recommend Caleb Dotson. He is extremely knowledgeable and goes out of his way to listen and understand your... read moreI highly recommend Caleb Dotson. He is extremely knowledgeable and goes out of his way to listen and understand your source of pain. When treating the location of the pain has not solved the issue (with prior PTs), Caleb has the unique ability (and patience) to trace back and identify the source of your pain. He is very respectful in terms of always asking for permission (for example, when he would need to move a small part of my shirt to work on a section of my neck/shoulder). Additionally, he prioritizes your understanding and always encourages questions. I cannot recommend Caleb enough. read less