Dedicated to getting you better faster.
At Therapeutic Associates Hazel Dell Physical Therapy, we focus on comprehensive, individualized care designed to enhance the overall health, function and quality of life of our patients. Our team of experienced practitioners and staff are dedicated to meeting your individual needs and helping you get back to the things you love as quickly and safely as possible.
Your physical therapy partner for personalized care.
Our locally owned and operated clinic is conveniently located in the Northgate Village Shopping Center at the corner of 99th Street and Hazel Dell Avenue. We are committed to being motivating partners in patient recovery while delivering the highest quality of care, with a focus on individualized treatment for patients of every age and ability. Drawing on clinical experience and evidence-based medicine, we aim to provide you with a fun and friendly environment where your rehabilitation experience and educational needs are the top priority.
Our team is committed to ongoing professional development to ensure that each of our therapists is on the leading edge of treatment methods and clinical excellence. Physical therapy care is a constantly evolving variety of education, manual therapy, exercise, functional training, and modalities designed to help you reach your goals. Whether you've undergone surgery, are rehabilitating after an injury, or are focused on maintaining and enhancing your movement and performance, we will work with you to develop a customized plan of care.
Actively engaging with our local communities.
We strive to be a pillar of our community and actively support area school districts, sports/recreational teams, community events, and fundraisers. We also work to educate the general public on health issues and the prevention of injuries. Our goal is to promote the benefits of staying physically active and leading a healthy lifestyle.
Check out our clinic space.
Our clinic was designed to empower every patient to reach their full potential, incorporating private treatment spaces and dedicated exercise areas.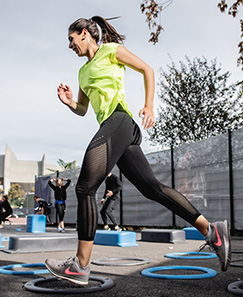 Whatthey say...