Your partner in pursuit of an active, healthy, pain-free life.
Whether you're recovering from an injury, rehabilitating after surgery, managing a chronic condition or seeking to improve your balance, strength and flexibility, at Therapeutic Associates, we are dedicated to your goals. We strive to ensure every patient we see is empowered on their journey back to all the activities beautiful Central Oregon offers.
Comprehensive treatment and compassionate care.
Our physical therapists are compassionately committed to helping you reach your optimal physical health. Locally owned and operated, our clinic is conveniently located upstairs within the Sisters Athletic Club (SAC), giving our PTs and their patients access to the Club's state-of-the-art equipment and aquatic therapy pool. Our partnership with SAC also includes a step-down program that grants continued access to their facilities for each of our patients for 30 days after completion of PT care. 
We create custom treatment plans designed around your personal situation, which ensures a pleasant, productive and worry-free experience. Our commitment to continuing education keeps our physical therapists on the leading edge of treatment methods for a wide range of conditions and services. Our focus is on improving the quality of our patients' lives through providing unmatched care and clinical excellence while building lifelong relationships. Your success is our passion.
Supporting the Sisters community and its visitors.
We are proud to be a part of the vibrant Sisters community and to have the opportunity to give back to its residents and guests through sponsorship of events, supporting the local schools and their athletic teams, providing educational outreach and as a part of their healthcare teams.
Check out our clinic space.
Our clinic was designed to empower every patient to reach their full potential, incorporating private treatment spaces and dedicated exercise areas.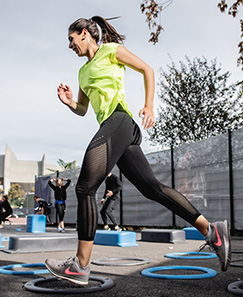 Whatthey say...