Empowering Wilsonville physical therapy patients through education and intervention.
At Therapeutic Associates Physical Therapy – Wilsonville, our focus is you. Specializing in orthopedic and sports rehabilitation, we provide individualized, expert treatment with an emphasis on functional movement and patient education in order to return patients of all ages to an active lifestyle.
Your Wilsonville physical therapy partner for life.
Conveniently located in the new Wilsonville Town Center Building at the corner of Parkway and Town Center Loop W,, our Wilsonville physical therapy clinic is therapist owned and operated, featuring a staff that is dedicated to improving lives. Our therapists build relationships with each patient in order to collaborate with them to create and achieve individualized goals.
We strive to empower every patient with the knowledge, understanding and inspiration they need to stay active and healthy throughout their lifetime. Our staff has advanced training in orthopedic and manual therapy and we strive to remain at the forefront of healthcare education and movement science research, so those we treat receive the most advanced, dynamic care available
Committed to our community.
Wilsonville is our community, and community involvement is one of our highest priorities. We do our best to support local events and teams each year. You can find us at events, including Fun in the Park, Wilsonville Farmers Market, and the Kiwanis Kids Fun Run. We proudly support the Wilsonville Little League and are members of the Wilsonville Chamber of Commerce.
Check out our clinic space.
Our clinic was designed to empower every patient to reach their full potential, incorporating private treatment spaces and dedicated exercise areas.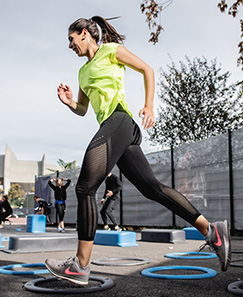 Whatthey say...